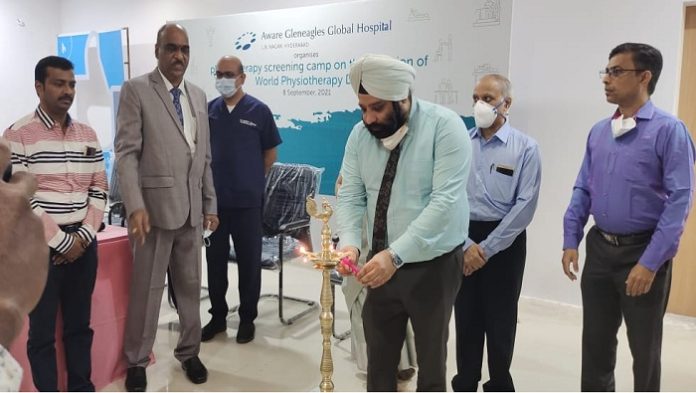 Physiotherapy or Physical Therapy helps people recover from an injury, relieve pain, prevent future injury, or deal with a chronic condition; and now it has been noticed that it helps people overcome the after-effects of Covid-19 infections or related mental trauma. Aware Gleneagles Global Hospital (L B Nagar), one of the leading healthcare institutions in South-East Hyderabad, today commemorated the World Physical Therapy Day 2021 with an awareness session.
Commenting on the importance of physiotherapy, Dr. Srinivas Rao, Head of Physiotherapy division, Aware Gleneagles Global Hospital said, "A physical therapist helps take care of patients in all phases of healing, from initial diagnosis through the restorative and preventive stages of recovery. In case of an injury or chronic pain, physical therapy can help address the underlying issues related to the pain. Not only can it provide pain relief, but it can also help make corrections to prevent ongoing problems. Physical Therapy has a crucial role in helping Covid-19 infected patients regain lost physical agility and will also help those who have suffered or are suffering from mental fatigue/trauma associated with novel coronavirus infection."
"While an ailment is immediately addressed and cured by the related health and medical department, rejuvenation and regaining lost agility is only possible through physiotherapy. At our hospital, we are educating patients on the importance of regaining lost health, and to help them attain their peak wellness, the physical therapy team is suggesting steps which they could follow at home to recover completely. Our physiotherapy teams are also available to help the patients overcome any physical and mental challenges they acquired during Covid-19 infection phase," added Dr. Satwinder Singh Sabharwal, COO, Aware Gleneagles Global Hospitals.
About Aware Gleneagles Global Hospitals:
Aware Gleneagles Global Hospital at L B Nagar, Hyderabad is known as one of the best tertiary care multi-specialty hospitals in India. The hospital has tie-ups with all major cashless health insurance players and is empanelled with all major corporates in the city. Aware Gleneagles Global Hospital is a part of IHH Healthcare, one of the world's largest healthcare providers. With its full spectrum of integrated services, dedicated people, reach and scale, and commitment to quality and safety, IHH aspires to be the world's most trusted healthcare services network, united by a single purpose: to touch lives and transform care.