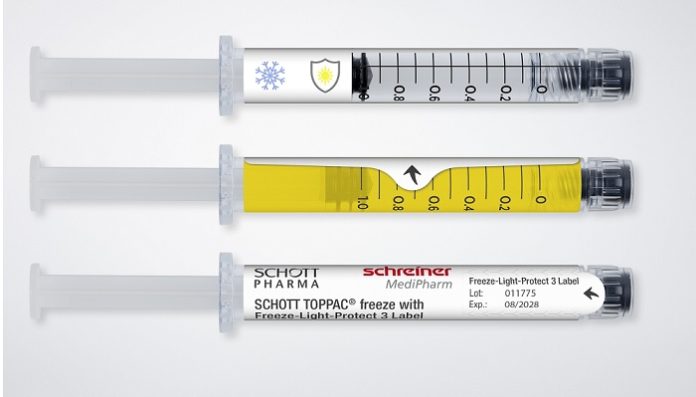 Schreiner MediPharm, a Germany-based global provider of innovative functional label solutions for the healthcare industry, will showcase a new protective syringe label suitable for deep-freeze applications at PDA Universe of Pre-Filled Syringes & Injection Devices, October 17-18 in Gothenburg, Sweden. At Booth #135, Schreiner MediPharm will introduce its Freeze-Light-Protect syringe label, which combines light protection with viability at temperatures well below zero. The new solution is particularly relevant for sensitive mRNA-based substances as well as cell and gene therapies. 
Therapies and vaccines with mRNA substances, as well as cell and gene therapies, are becoming increasingly prevalent. These novel active ingredients entail special logistical challenges: For starters, they must be transported and stored on dry ice at freezing temperatures as low as -100 °C. In addition, special light protection is frequently required, depending on the type of substance. Precisely for these applications Schreiner MediPharm has developed the Freeze-Light-Protect syringe label.
Freeze-Light-Protect securely adheres to the syringe despite extremely low temperatures, enabling reliable marking. The specialty label also can be enhanced with a variety of UV and light protection levels. The first level provides UV protection exclusively, while a second protects against UV rays and blue light. A third level delivers comprehensive light protection. Light protection levels can be exactly customized to suit the specific requirements of the active ingredient. Additional integrated functionalities also are available, including detachable documentation labels for vaccination cards or patients' medical records; inspection windows for checking syringe contents in unadulterated color; and graduations for correct dosing of injections.
The novel label from Schreiner MediPharm was developed in coordination with its partner SCHOTT Pharma, which launched the SCHOTT TOPPAC® freeze syringe. The 1 ml long COC syringe was developed for medicines with temperatures down to -100 °C, with a view to retaining the syringe's functionality and integrity of the syringe closure, thus securing drug stability. Schreiner MediPharm's Freeze-Light-Protect was tested specifically for the SCHOTT TOPPAC® freeze syringe to prove the reliability of the label-integrated protective functions and other features.
Thanks to the combination of the Freeze-Light-Protect label and SCHOTT TOPPAC® freeze syringe, pharmaceutical companies can benefit from a pre-qualified solution customizable to corresponding applications. Due to the concentrated expertise of Schreiner MediPharm and SCHOTT Pharma, they are optimally supported in bringing their deep-frozen drugs to the market.