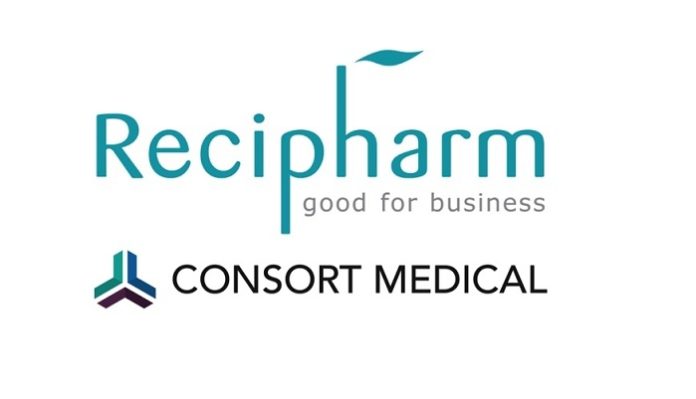 Recipharm AB and Consort Medical plc have reached an agreement on the terms of a recommended cash offer by Recipharm Holdings Limited, a wholly-owned direct subsidiary of Recipharm, for Consort, a leading global drug delivery and device company and integrated contract development and manufacturing organisation. The Board of Consort has confirmed its unanimous intention to recommend a cash offer for an equity value of GBP 505 million (approximately SEK 6,284 million(1)). The company is headquartered in the United Kingdom and listed on the London Stock Exchange.
Highlights
The combination of Recipharm and Consort is highly complementary given that both organisations provide different products and services within the same value chain for a number of customers
The enlarged Recipharm Group is set to become a top five global CDMO, able to offer integrated device development and supply combined with commercial scale finished dose manufacturing
The acquisition will add significant technological IP and know-how to Recipharm's offering, delivering on a key strategy of increasing its share of the value chain
It is intended that the acquisition will be implemented by way of a takeover offer under the UK Companies Act, under which the shareholders of Consort will receive GBP 10.10 in cash per share, valuing the entire share capital at GBP 505 million (SEK 6,284 million) on a fully diluted basis
The offer is fully financed through bank facilities intended to be partly repaid by proceeds from a proposed share issue following closing
The combined entity will enhance Recipharm's scale and profitability with annual pro forma revenue of SEK 10,847 million and pro forma EBITDA of SEK 1,793 million(2)
Consort had annual pro forma revenue of GBP 292 million (SEK 3,633 million) and pro forma EBITDA of GBP 47 million (SEK 587 million)(3)
Financially compelling and significantly accretive to Cash EPS(4) (immediately accretive in the first fiscal year after completion) with potential for future growth and operating margin expansion
Recipharms aim is to become a leading global CDMO and it is successfully executing against its ambitious growth strategy, targeting annual sales of over SEK 8 billion by 2020. This target has been set amid consolidation in the fragmented CDMO industry, as pharmaceutical companies seek to reduce their fixed costs by rationalising supply chains and focusing on core R&D and sales capabilities. Consequently, they are turning to trusted partners with the necessary scale and breadth of technologies to support them through the drug development process and the subsequent commercial manufacturing and supply.
Given these sector dynamics, and Consorts strength in pharmaceutical device development and manufacturing, Recipharm believes that the combination is an excellent match. Recipharm has been an admirer of Consort's innovative delivery technologies, which are highly complementary to Recipharm's capabilities in the development and commercial supply of both inhaled and sterile injectable finished dose forms. The Aesica division provides expansion through additional capabilities and access to new customers. The combination of Consort's product portfolio and services with Recipharm's existing business will allow the enlarged organisation to become a best-in-class technology based CDMO, positioning it to compete more effectively within a wider part of the value chain.
Commenting on the transaction, Thomas Eldered, Chief Executive Officer of Recipharm, said: "I am excited at the prospect of combining Recipharm with Consort, which is extremely complementary. In our view, Bespak is already acknowledged as a leading drug device developer and manufacturer and is a perfect fit for Recipharms broader pharmaceutical capabilities. The enlarged group will be able to provide finished dose forms in Bespaks key technologies and provide customers with a far more integrated approach. The Aesica business will further expand our capabilities and capacities in both API and finished dose manufacturing whilst providing access to a new customer base".
Commenting on the transaction, Christopher Brinsmead CBE, Chairman of the Board of Consort, said: "Consorts leading technologies and market positions provide innovative solutions and products to a blue-chip customer base. We believe that Reciphars businesses are highly complementary to our own and the Board intends to unanimously recommend the offer from Recipharm which represents a 39% premium to our share price".
Jonathan Glenn, Chief Executive Officer, of Consort added: "Consorts strategy has been to focus on expanding its businesses into new markets and geographic territories, and on developing our combined drug/device offering. Recipharm's capabilities and footprint in drug manufacturing will enhance both our Bespak and Aesica businesses. We believe that customers of both businesses will value the offering and enhanced scale of the combined business".
Transaction rationale
–   The combination positions Recipharm as a top five global CDMO with >USD 1 billion in sales
–   Ability to better compete for global contracts with pharma companies
    Inhalation technology leadership
– Creates a leading end-to-end CDMO with significant technology capabilities
– Enhanced value proposition in relation to high value projects for blue chip customers
– Strong know-how and IP portfolio
– Creates new avenue for growth within the large and rapidly expanding biologics sector
– VapourSoft® technology validated through development contracts
– Strong pipeline originating from Consort's Innovation Centre in Cambridge, UK
    Attractive financial impact
– Significantly accretive to Cash EPS(4) (immediately accretive in the first fiscal year after completion)
– Potential for significant future growth and operating margin expansion
– Estimated SEK 125 million in annual cost synergies, realised within 18 months after completion with potential for additional cost and revenue synergies in the medium to long term
About Consort
Consort is a public limited company incorporated in England and Wales, with its shares admitted to trading on the premium segment of the London Stock Exchange. Consort is a leading, global, integrated pharma services drug and delivery device company. Consort is at the leading edge of innovation and is committed to investing in patient, clinician and customer driven innovation to create new treatments and new opportunities.
Consort's Bespak division is a leading player in the manufacture of drug delivery devices for pharmaceutical partner companies, including respiratory, nasal, injectables and ocular products, and the manufacture of devices for point of care diagnostics. The Aesica division is a leading provider of finished dose and active pharmaceutical ingredient (API) development and manufacturing services to pharmaceutical partners.
Consort employs approximately 2,000 people globally of which approximately 1,400 are located in the UK. Consort has UK facilities in King's Lynn, Cambridge, Nelson, Milton Keynes, Cramlington, Queenborough and Hemel Hempstead, German facilities in Monheim and Zwickau and a facility in Pianezza, Italy.
About Recipharm
Recipharm is a leading Contract Development and Manufacturing Organisation (CDMO) in the pharmaceutical industry employing almost 7,000 employees. Recipharm offers manufacturing services of pharmaceuticals in various dosage forms, production of clinical trial material and APIs, and pharmaceutical product development. Recipharm manufactures several hundred different products to customers ranging from big pharma to smaller research and development companies. Recipharm's turnover is approximately SEK 7.2 billion. The company operates development and manufacturing facilities in France, Germany, India, Israel, Italy, Portugal, Spain, Sweden, the UK and the US and is headquartered in Stockholm, Sweden. The Recipharm B-share (RECI B) is listed on Stockholm.
For more information on Recipharm and our services, please visit www.recipharm.com