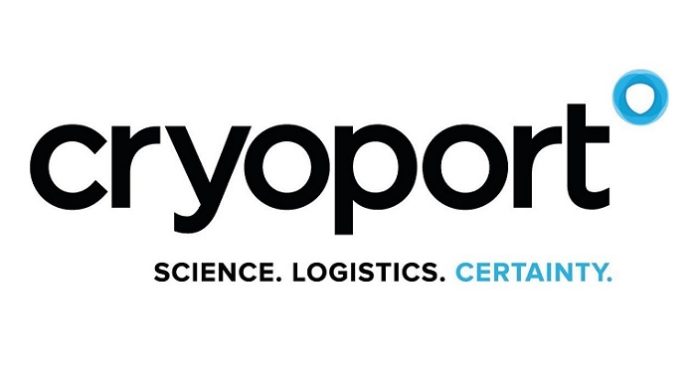 Cryoport, Inc. , the world's leading temperature-controlled logistics company dedicated to the life sciences industry, announced financial results for the three and six-month periods ended June 30, 2019.
"Cryoport reported revenue of $8.5 million for the three-month period ended June 30, 2019, an increase of 83% compared with the same period in the prior year," stated Jerrell Shelton, Chief Executive Officer of Cryoport.
"Revenue from our commercial agreements supporting Gilead's YESCARTA® and Novartis' KYMRIAH® contributed $1.9 million in the Second Quarter of 2019 as volumes continued to ramp in their respective ongoing commercial rollouts. Revenue from these commercial products represent a 320% increase compared with the same quarter last year and a sequential increase of 34% over the First Quarter of 2019. The continued global rollout of YESCARTA® and KYMRIAH® is expected to drive sustained momentum and revenue growth for Cryoport.
"A milestone during the quarter was the European Union's Conditional Marketing Authorization for bluebird bio's ZYNTEGLO™, which represents the third commercially approved product that we support. ZYNTEGLO™ is the first gene therapy approved for transfusion-dependent β-thalassemia (TDT), a severe genetic disease caused by mutations in the β-globin gene that results in reduced or absent hemoglobin. Logistics requirements are expected to ramp in 2020 with the commercial launch, driving revenue to Cryoport. We are proud to be working with bluebird bio to bring this pioneering therapy to patients.
"We added a net total of 30 clinical trials during the Second Quarter, bringing the grand total of regenerative therapy clinical trials supported by Cryoport to a record 413, of which 52 are currently in Phase III. As the regenerative medicine market continues to gain pace, we expect to continue to grow the number of clinical trials we support, which, together with the increasing number of cell therapies that are approaching commercialization, will continue to be a main source of revenue growth.
"The global Regenerative Medicine market continues to experience significant growth with a range of diverse therapies entering development. Data provided by the Alliance for Regenerative Medicine states that there are currently a total of 1,069 clinical trials in the Regenerative Medicine market globally, with 358 trials in Phase I, 617 in Phase II, and 94 in Phase III. We continue to focus on adding clinical trials as a core part of our strategy as the industry approaches its inflection point and many therapies advance toward commercialization. Demand for temperature-controlled logistics solutions is expected to significantly increase as these therapies are approved across new indications and countries.
"We think the growth of the regenerative medicine market has just begun; and, to support this growth, we will continue to further build out our ecosystem to better serve all our life sciences markets through investing in infrastructure, forming strategic partnerships and developing new, innovative solutions for the life sciences.
"During the Second Quarter, we entered the bioservices market through the acquisition of Cryogene Partners, a Houston-based company that operates a 21,000 square foot state-of-the-art biostorage facility. This acquisition was immediately accretive, contributing approximately $577,000 to Cryoport's revenue for the Second Quarter. We expect Cryogene's revenues to grow over the next several quarters as it continues to attract new customers and further serve its major customers in the region, such as MD Anderson, Houston Methodist Hospital, Texas Childrens, Bellicum, and Merck.
"We believe Cryoport is well capitalized with approximately $95 million in cash and short term investments to execute on its growth strategies in all its markets, which we expect to provide us with the financial wherewithal to finance our growth, to continue our global infrastructure buildout, to invest in new product offerings, and to build out our global supply chain network. Our strong balance sheet also allows us to more aggressively pursue acquisitions and other strategic initiatives that will further entrench Cryoport within this new and expanding life sciences ecosystem."
Highlights by market:
Biopharma
Biopharma revenue increased by 81% to $7.0 million for the three months ended June 30, 2019 compared to $3.8 million for the same period in 2018.
A net addition of 30 new biopharma trials were added during the three months ended June 30, 2019.
Cryoport is supporting a net total of 413 clinical trials as of June 30, 2019 compared with 283 as of June 30, 2018. The number of trials in Phase III grew to 52, compared with 41 as of June 30, 2018. Of the 413 total trials we support, 353 are in the Americas, 53 in EMEA (Europe, the Middle East and Africa) and seven in APAC (Asia Pacific), as of June 30, 2019. This compares to 257 in the Americas, 25 in EMEA and one in APAC, as of June 30, 2018.
Formed a strategic alliance with EVERSANA™ to further develop another fully integrated regenerative medicine supply chain solution. The alliance is designed to leverage EVERSANA's position as the leading provider of commercial services addressing access, affordability and adherence challenges for cell and gene therapies and Cryoport's suite of temperature-controlled logistics solutions to ensure a safe and effective supply chain solution for innovative therapeutic advancements.
Animal Health
Revenue from the Animal Health remained flat with $0.3 million for both, the three months ended June 30, 2019 and 2018.
Reproductive Medicine
Reproductive Medicine revenue increased 34% for the three months ended June 30, 2019 compared to the same period in 2018, growing both domestically as well as internationally.
Bioservices
Bioservices revenue for the three months ended June 30, 2019 was $0.6 million, resulting from the acquisition of the Cryogene business consummated during the quarter.
About Cryoport, Inc.
Cryoport, Inc. is the premier provider of temperature-controlled solutions to the life sciences industry through its purpose-built proprietary packaging, information technology, specialized cold chain logistics expertise, and biostorage and biobanking services. The Company provides leading edge solutions to the biopharma, reproductive medicine and animal health markets to ship, store and deliver biologic materials, such as immunotherapies, stem cells, CAR-T cell therapies, vaccines and reproductive cells for clients worldwide Cryoport actively supports pharmaceutical and biotechnology companies, points-of-care, contract research organizations, central laboratories, contract manufacturers, university researchers and other entities service the life sciences industry.
Cryoport's proprietary Cryoport Express® Shippers, Cryoportal® Logistics Management Platform, leading-edge SmartPak II™ Condition Monitoring System and geo-sensing technology, paired with unparalleled cold chain logistics expertise and 24/7 client support, make Cryoport the end-to-end cold chain logistics partner that the industry trusts.