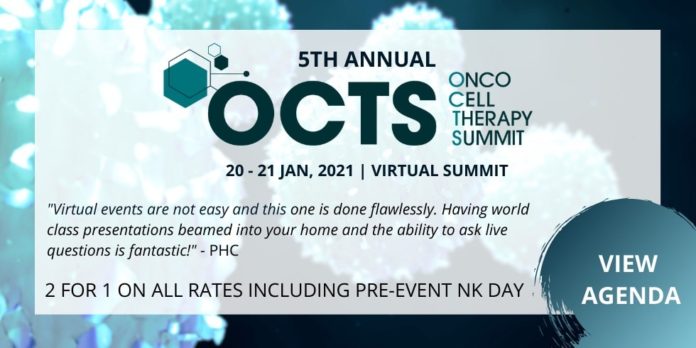 The Onco Cell Therapy Series kicks off 2021 with its most interactive event ever, with 20+ panel conversations, townhall meetings, roundtable sessions and coffee break style networking.
The Global Onco Cell Therapy Virtual Summit, 20th – 21st January 2021, provides a platform for information sharing to enable the discovery, translation and commercialisation of cell therapies in oncology by connecting senior representatives in pharma, biotechs and academia. The summit will address the research, regulatory, logistical and technical challenges that are holding back the field.
Whilst bringing together the key decision makers for oncological cell therapies, this year's summit will have an added focus on the data releases and mergers that are driving the surge of interest in harnessing alternative cell therapies in cancer treatments.
All tickets include a FREE access to a pre-event NK Day and are 2 tickets for the price of 1 on standard rates. Quote '2FOR1' when booking online.
Detailed Event Name: OCTS Global
Event Venue: Virtual Summit
Event start and end Date: 20th – 21st January, 2021
Event website link: www.oncocelltherapyglobal.com
link to: https://go.kisacoresearch.com/l/678123/2021-01-05/4zvpw
Complete Event Organizer Name: Kisaco Research
Communication number (with country & area code): +44 (0)20 3696 2920
Email ID: events@kisacoresearch.com
Social Media Link's:
https://www.linkedin.com/showcase/oncocelltherapyseries