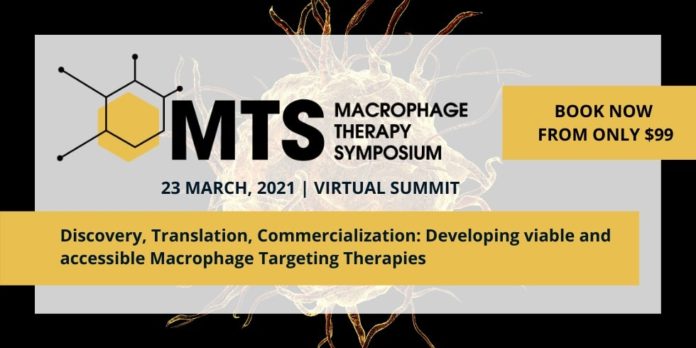 Cancer immunology is establishing itself as the 5th pillar of oncology. T cell Therapies hitting the market have shown remarkable success, but their full potential is yet to be delineated. With patient responses limited in CAR-T treatment of solid tumors, the role of macrophages within the tumor microenvironment has come under increased scrutiny.
The Macrophage Therapy Symposium will outline the key approaches for macrophage stimulation to limit immune suppression, angiogenesis and the resultant resistance to immune therapy.
Tune in on March 23rd, to join key academics, innovative biotechs and pioneering pharmaceutical companies to meet and unpack the mechanisms and paradigms surrounding the key targets for macrophage modulation.
Leading speakers include:
Tatiana Novobrantseva, Co-Founder & CSO, Verseau Therapeutics
Kipp Weiskopf, Whitehead Fellow, Whitehead Institute – MIT
Judith Varner, Professor – Pathology, UCSD
Nicolas Poirier, Chief Scientific Officer, OSE Immunotherapies
Yaron Pereg, CEO, Kahr Medical
Rates to attend start from only $99, book early!
Detailed Event Name: Macrophage Therapy Symposium
Event Venue: Virtual Summit
Event start and end Date: 23 March, 2021
Event website link: www.macrophagetherapy.com
link to: https://go.kisacoresearch.com/l/678123/2021-01-06/4zzhk
Complete Event Organizer Name: Kisaco Research
Communication number (with country & area code): +44 (0)20 3696 2920
Email ID: events@kisacoresearch.com
Social Media Link's:
https://www.linkedin.com/showcase/oncocelltherapyseries