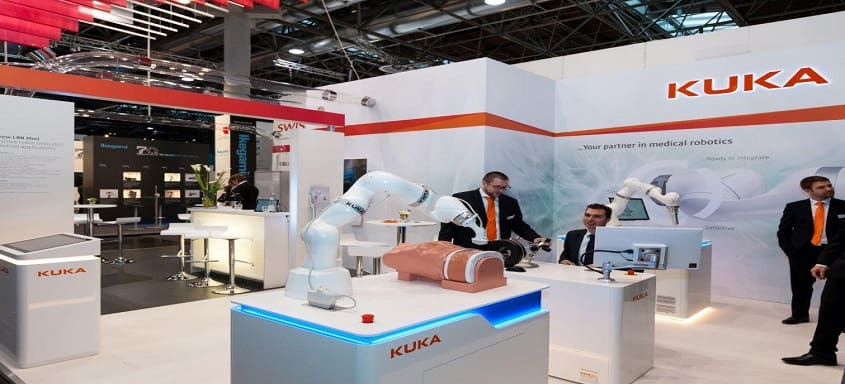 KUKA is showcasing the possibilities of using sensitive robots to support doc-tors at the flagship show for the medical technology sector, China International Medical Equipment Fair (CMEF) in Shanghai from 15 to 18 May 2017
For years, China has been the world's largest and fastest-growing market for industrial robots. This year, for the first time, the German robot and system manufacturer KUKA is represented at the China International Medical Equipment Fair (CMEF) which begins in Shanghai on 15 May. The CMEF – the largest exhibition of medical equipment, related products and services in the Asia-Pacific region – is the ideal platform for KUKA to showcase new robotic solutions in the field of healthcare. 
At the CMEF, KUKA Roboter GmbH – together with its sister company Swisslog – will be exhibiting possible robotic solutions for simplifying highly complex and difficult medical examinations and making them more cost-effective.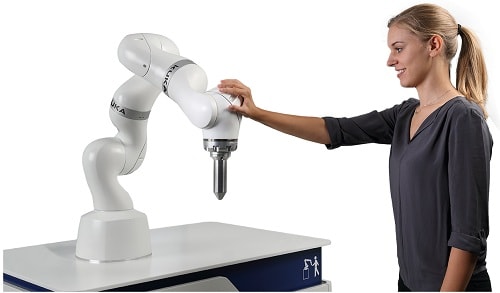 "The KUKA LBR Med integrates into a medical product."
The highlight will be KUKA's Asian premiere of the LBR Med sensitive lightweight robot – an intelligent robotic component for integration into medical products.
The LBR Med is specially adapted to operation meeting the strict standards of medical treatment and interventions. It has biocompatible and corrosion-resistant surfaces. Internally located connections meet a further requirement for compliance with the hygiene standards in doctors' offices, clinics and operating rooms. As verification of this, KUKA has the LBR Med inspected under the IECEE CB Scheme according to standard IEC 60601-1. With the CB Certificate and CB Report from KUKA, complex testing requirements after delivery are reduced and certification proce-dures are made significantly easier.
"The KUKA LBR Med thus integrates into a medical product developed jointly with us by our partners," explains Michael Otto, Vice President of the Medical Robotics Division at KUKA Roboter GmbH. "The worldwide potential for robotics in the field of healthcare is enormous. We want to demonstrate that the integra-tion or 'marriage' into a product is now simple to carry out. In this way, we sup-port real solutions which help effectively to free up skilled medical personnel in order to spend more time on patients."
The LBR Med, the sensitive robotic specialist for the healthcare sector, will be on display. The LBR Med is entering series production in the summer of 2017 and can already be experienced live in practical application examples at the CMEF.
The China International Medical Equipment Fair (CMEF) – International Compo-nent Manufacturing & Design Show (https://www.cmef.com.cn/g1225.aspx) in Shanghai, which is taking place from 15 to 18 May, includes some 15,000 prod-ucts such as medical imaging, in vitro diagnostics, electronics, optics, first aid, rehabilitation care, medical IT and outsourcing services which comprehensively cover the entire value chain for medical devices and the medical technology sec-tor. KUKA Medical Robotics and Swisslog Healthcare are exhibiting together in Hall 5.1 at Booth B 15. 
About the KUKA Robotics Group
KUKA Roboter GmbH, with its headquarters in Augsburg, is a KUKA Aktiengesellschaft company and ranks among the world's leading suppliers of industrial robots. Core competencies are the development, production and sale of industrial robots, controllers and software. The company is the market leader in Germany and Europe, and number one in a variety of sectors worldwide. KUKA Roboter GmbH employs about 4726 people worldwide. In 2016, sales totaled 993.5 million euro. The company is part of KUKA AG, which – with annual sales of around 3 billion euro and roughly 13,200 employees at more than 30 subsidiaries – is active in the major markets of Europe, the Americas and Asia.