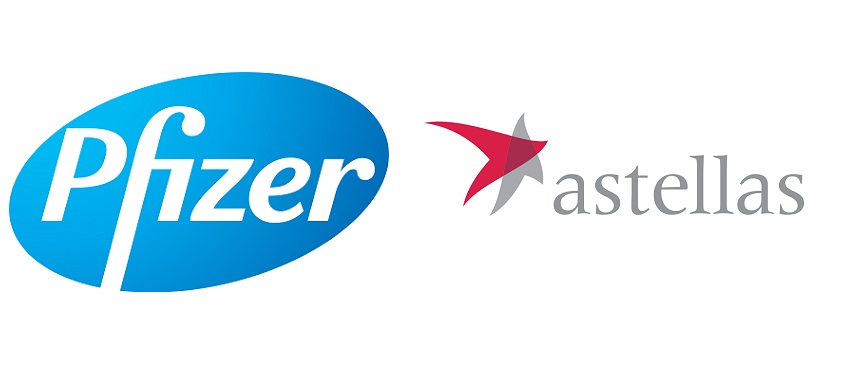 Astellas Pharma Inc and Pfizer Inc announced the amendment of the protocol for the registrational PROSPER trial, a multi-national, randomized, double-blind, placebo-controlled study evaluating the efficacy and safety of XTANDI in patients with non-metastatic (M0) Castration-Resistant Prostate Cancer (CRPC).
The primary endpoint remains the same: metastasis-free survival (MFS). The main purpose of the amendment is to revise the plan for the analyses of the primary and several secondary endpoints, which allows for a reduction in the target sample size to approximately 1,440, from 1,560 patients. The companies now anticipate PROSPER top-line results will be disclosed later this year. Previously the expected primary completion date for PROSPER was June 2019.
"XTANDI is already a standard of care for men worldwide fighting metastatic castrationresistant prostate cancer, but we are continually looking to evaluate this medicine for men facing earlier stage disease," said Steven Benner, M.D., senior vice president and global therapeutic area head, oncology development, Astellas. "By amending the protocol for PROSPER, we hope to be able to accelerate the evaluation of the data in this area of medical need."
"PROSPER is one of a number of large, randomized trials in our robust, registration-focused development program, where we are evaluating enzalutamide in different prostate cancer populations, including men with earlier stages of the disease," said Mace Rothenberg, MD, chief development officer, Oncology, Pfizer Global Product Development. "We look forward to building upon the extensive body of clinical evidence that has been generated over the past five years and established XTANDI as a standard of care for men with metastatic CRPC."
XTANDI is approved by the U.S. Food and Drug Administration for the treatment of patients with metastatic CRPC, based on clinical studies showing statistically significant overall survival benefit versus placebo.
Details regarding the protocol amendment for PROSPER (NCT02003924) will be available on ClinicalTrials.gov
About XTANDI® (enzalutamide) capsules
XTANDI (enzalutamide) is an androgen receptor inhibitor that blocks multiple steps in the androgen receptor signaling pathway within the tumor cell. In preclinical studies, enzalutamide has been shown to competitively inhibit androgen binding to androgen receptors, and inhibit androgen receptor nuclear translocation and interaction with DNA. The clinical significance of this mechanism of action (MOA) is unknown.
About Astellas
Astellas Pharma Inc., based in Tokyo, Japan, is a company dedicated to improving the health of people around the world through the provision of innovative and reliable pharmaceutical products. We focus on Urology, Oncology, Immunology, Nephrology and Neuroscience as prioritized therapeutic areas while advancing new therapeutic areas and discovery research leveraging new technologies/modalities. We are also creating new value by combining internal capabilities and external expertise in the medical/healthcare business. Astellas is on the forefront of healthcare change to turn innovative science into value for patients. For more information, please visit our website at www.astellas.com/en
About Pfizer Oncology
Pfizer Oncology is committed to pursuing innovative treatments that have a meaningful impact on those living with cancer. As a leader in oncology speeding cures and accessible breakthrough medicines to patients, Pfizer Oncology is helping to redefine life with cancer. Our strong pipeline of biologics, small molecules and immunotherapies, one of the most robust in the industry, is studied with precise focus on identifying and translating the best scientific breakthroughs into clinical application for patients across a wide range of cancers. By working collaboratively with academic institutions, individual researchers, cooperative research groups, governments and licensing partners, Pfizer Oncology strives to cure or control cancer with its breakthrough medicines. Because Pfizer Oncology knows that success in oncology is not measured solely by the medicines you manufacture, but rather by the meaningful partnerships you make to have a more positive impact on people's lives. Learn more about how Pfizer Oncology is applying innovative approaches to improve the outlook for people living with cancer at http://www.pfizer.com/research/therapeutic_areas/oncology
About the Pfizer/Astellas Collaboration
In October 2009, Medivation, Inc., which is now part of Pfizer (NYSE:PFE), and Astellas (TSE: 4503) entered into a global agreement to jointly develop and commercialize enzalutamide. The companies are collaborating on a comprehensive development program that includes studies to develop enzalutamide across the full spectrum of advanced prostate cancer as well as other cancers. The companies jointly commercialize XTANDI in the United States and Astellas has responsibility for manufacturing and all additional regulatory filings globally, as well as commercializing XTANDI outside the United States.