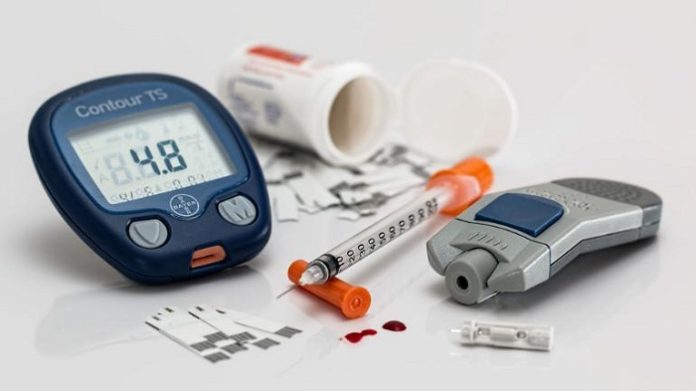 Are you concerned you might be diagnosed with diabetes one day? You are not alone.
Diabetes and prediabetes are two of the top pressing health issues in the nation. The number of Americans who are at risk for diabetes is astounding: it is reported that close to 86 million people in the U.S. have prediabetes, meaning their blood sugar levels are higher than normal but not yet high enough to be classified as type 2 diabetes.
The American Diabetes Association (ADA) estimates a person diagnosed at age 50 dies six years earlier than a person without diabetes. One in three American adults will have diabetes in the year 2050 if current trends continue.
Close to 29 million Americans, or 9% of the population, currently have diabetes. The vast majority of people, about 90 to 95 percent of those diagnosed with diabetes, have type 2 diabetes, according to the ADA.
Insulin is a hormone the body needs to utilize the glucose (sugar) from food to provide energy for the body. In type 2 diabetes, the pancreas either doesn't make enough insulin, there is resistance to the effects of insulin, or both. Treatment typically begins with oral metformin, a veteran drug that is the backbone of many diabetes treatment regimens. From there, different drug classes may be added to metformin, and for some patients, the use of insulin may become necessary.
However, the latest diabetes news is encouraging. New drugs, improved monitoring devices and an understanding of how diet and exercise can impact diabetes is adding up to positive outcomes for patients. As reported in August 2014 from research in The Lancet Diabetes & Endocrinology, the vast majority of people with type 2 diabetes are living longer lives due to better medications and treatments for both the disease and the numerous complications that result from type 2 diabetes. High blood sugar levels can increase the risk for serious complications due to diabetes such as vision loss, peripheral nerve damage, kidney impairment, hard-to-treat infections, impotence and heart disease.
Researchers also emphasized that in addition to medicine, lifestyle changes like weight loss, exercise and healthy food choices need to be followed for the optimal outcomes. Without a doubt, that's the hardest part for Americans to follow.
In response to the type 2 diabetes epidemic, the rate of new U.S. Food and Drug Administration (FDA) approvals for type 2 diabetes has been swift in recent months. In fact, since January 2013, nine new type 2 diabetes products have been approved, including a new inhaled insulin for both type 1 and 2 diabetes and a new drug, alogliptin, found in three different oral treatments.
Here are the top breakthrough diabetes products that have hit the market since January 2013.
1. Alogliptin (Nesina, Kazano, Oseni): Approved January 2013
On January 25, 2013, Takeda Pharmaceutical received approval for alogliptin, a type 2 diabetes drug. Alogliptin is a dipeptidyl peptidase IV (DPP-4) inhibitor that stimulates the release of insulin by preventing GLP-1, a compound that helps to lower blood sugar, from breaking down. Alogliptin was approved in three products:
In the stand-alone form as Nesina.
In combination with metformin as Kazano.
Combined with pioglitazone as Oseni.
Oseni's label contains a boxed warning for congestive heart failure due to the pioglitazone component. Pioglitazone (Actos), an oral thiazolidinedione used in type 2 diabetes, is also made by Takeda, but the Actos patent expired in 3Q 2012, opening the door for generics and competition. Nesina gives Takeda a new exclusive medicine in the diabetes market.
2. Invokana: Approved March 2013
Invokana (canagliflozain) from Janssen Pharmaceuticals is the first in a new class of type 2 diabetes drugs that was FDA approved in March 2013. Invokana is a sodium-glucose co-transporter (SGLT2) inhibitor that blocks the reabsorption of glucose (blood sugar) by the kidneys and increases glucose excretion in the urine. This oral diabetes treatment is indicated to improve blood sugar control in conjunction with diet and exercise in patients with type 2 diabetes.
In clinical trials with Invokana, an improvement in hemoglobin A1c (a measure of blood sugar control) and fasting blood sugar levels in trials of more than 10,000 patients secured FDA approval.
Dehydration (the loss of body water and salt), which may lead to dizziness, fainting, especially when standing up, and genital yeast infections are important side effects.
Invokamet was FDA approved in August 2014, and is a combined, fixed-dose tablet of canagliflozin and metformin. Metformin, often a first-line treatment for patients with newly diagnosed type 2 diabetes, decreases the production of glucose in the liver and improves the body's response to insulin for patients who have developed insulin resistance. Additional treatments like canagliflozin can be added to metformin for better diabetes control.
In May 2015 the FDA warned consumers and healthcare providers on important side effects associated with the class of SGLT-2 inhibitors (Invokana (canagliflozin), Invokamet (canagliflozin and metformin), Farxiga (dapagliflozin), Xigduo XR (dapagliflozin and metformin extended-release), Jardiance (empagliflozin), Glyxambi (empagliflozin and linagliptin), Synjardy (empagliflozin and metformin): a risk of ketoacidosis (too much acid in the blood) and serious urinary tract infections. Patients should stop taking their SGLT2 inhibitor and seek medical attention immediately if they have any symptoms of ketoacidosis such as nausea, vomiting, abdominal pain, tiredness, and trouble breathing. Patients should also be alert for signs and symptoms of a urinary tract infection, such as a feeling of burning when urinating or the need to urinate often or right away; pain in the lower part of the stomach area or pelvis; fever; or blood in the urine.
3. Farxiga: Approved January 2014
In January 2014, the U.S. Food and Drug Administration (FDA) approved Farxiga (dapagliflozin) tablets to improve glycemic (sugar) control, along with diet and exercise, in adults with type 2 diabetes. Like Invokana, Farxiga is also a sodium-glucose co-transporter 2 (SGLT2) inhibitor. Farxiga's effectiveness was shown in 16 clinical trials involving more than 9,400 patients. Treatment with Farxiga has been studied alone or in combination with other type 2 diabetes medications, including metformin.
The most common side effects of Farxiga include genital yeast infections, urinary tract infections, and changes in urination frequency.
4. Tanzeum: Approved April 2014
GSK's Tanzeum (albiglutide), approved in April 2014, is classified as a glucagon-like peptide-1 (GLP-1) receptor agonist. GLP-1 is a hormone that helps normalize blood sugar levels in patients with type 2 diabetes. Tanzeum binds to GLP-1 to stimulate the release of glucose-dependent insulin, while blocking release of sugar-boosting glucagon from the pancreas. Tanzeum is given by subcutaneous (under the skin) injection, and, as with most diabetes treatments, is to be used alongside diet and exercise.
The safety and effectiveness of Tanzeum was shown in eight clinical trials involving over 2,000 participants with type 2 diabetes. Tanzeum was studied alone and in use with other type 2 diabetes treatments, including metformin, glimepiride, pioglitazone, and insulin. Tanzeum has a boxed warning that thyroid tumors have been seen in rodent studies with similar drugs (although animal studies do not always translate to human effects). Byetta and Victoza are other popular drugs in the same class as Tanzeum.
5. Jardiance: Approved May 2014
In May 2014, the FDA approved the third SGLT blocker to enter the U.S. market, Jardiance (empagliflozin). In seven type 2 diabetes clinical trials with about 4,500 people, Boehringer Ingelheim's Jardiance improved hemoglobin A1c levels compared to placebo. Jardiance can also be used with metformin, sulfonylureas, pioglitazone, and insulin.
Jardiance side effects may include dehydration and low blood pressure that can result in dizziness, fainting, yeast infections, low blood sugar with insulin or insulin secretagogues, elevation in LDL cholesterol, and impaired kidney function. The FDA has asked Boehringer Ingelheim for Jardiance post-marketing studies looking at effectiveness and safety in children and at heart outcomes studies in all populations.
6. Afrezza: Approved June 2014
Afrezza (insulin human) Inhalation Powder was approved by the FDA in June 2014. Afrezza is an ultra rapid-acting inhaled insulin that is administered with meals to improve glycemic control in adult diabetics. In clinical trials, Afrezza was evaluated in 24-week studies in both type 1 and type 2 diabetic patients. In 1,026 type 1 patients also using long-acting insulin, Afrezza effectiveness to lower blood sugar (A1c) provided less A1c reduction than insulin aspart (an injectable fast-acting insulin), and the difference was statistically significant. In 1,991 type 2 patients also using oral antidiabetic agents, inhaled Afrezza did significantly lower A1c compared to a placebo group (also using oral antidiabetics) in a 24-week study.
Afrezza, because it is inhaled and not injected, may cause the serious side effect of bronchospasm in patients with asthma or chronic obstructive pulmonary disease (COPD), and should not be used in these patients. The most common adverse reactions associated with Afrezza in clinical trials were hypoglycemia (low blood sugar), cough, and throat pain or irritation.
Exubera, another previously approved inhaled insulin, was withdrawn from the U.S. market in 2007 due to lack of sales. The fate of Afrezza sales waits to be seen, although some analysts predict sales could reach $1.6 billion if the novel dosage form catches on.