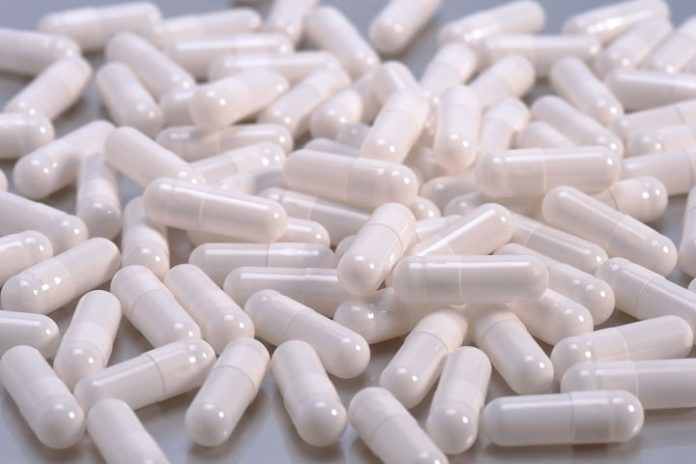 Capsule-based dry powder inhalers are making treating conditions of the lung, safe, effective and patient-centered
Between 1990 and 2017, Chronic Obstructive Pulmonary Disease (COPD) was the second highest cause of death in India according to University of Washington's Global Burden of Disease study, 2018.1 The country, which accounts for nearly a fifth of the global population, disproportionately accounts for almost a third of the world's COPD cases.2
The prevalence of respiratory disease and chronic conditions of the lung in India is driving an increased focus on developing affordable therapies to meet the unmet needs of patients in this extremely diverse market.
Development pipelines are primarily focusing on delivering effective inhalable formulations and chemistries to treat asthma and COPD. Cost is a key driver. India's economy, despite its incredible growth over recent decades,is still developing. Several regions within India remain mired in extreme poverty and rural populations in these states still have poor access to affordable quality health care.
A Global View of COPD from India
Data shows India experiences the most cases of COPD in the world,and ranks second in terms of deaths.2 In fact, COPD causes more deaths than AIDS, TB, malaria and diabetes all put together.
Statistics paint a bleak picture. Half a million Indians die every year due to this chronic pulmonary disease. According to data from the Global Burden of Disease Study published in The Lancet, COPD was responsible for 75.6% of the chronic respiratory disease DALYs (Disability Adjusted Life Years) in India in 2016.2
From 1990 to 2016, the crude prevalence of COPD in India increased by 29% and that of asthma by 9%.2
However, age-standardised prevalence declined by 5% for COPD and 4% for asthma and suggests that the overall increases in prevalence are mainly due to India's fast-aging population.2
From a global perspective, the proportion of COPD DALYs attributable to smoking in India is smaller than the global average in 2016, whereas the proportion of COPD DALYs attributable to air pollution is larger.2
India's smoking problem
Smoking is recognised as an important risk factor for development of COPD. Smoking behaviours in India are also peculiar with a large number of people using non-conventional forms of tobacco.3However,environmental factors may be posing an even greater threat to India's lung health.
People in rural India are exposed to smoke throughout their daily lives. Whether for cooking, heating or sanitation, smoke from post-industrial waste, crop residues, wood, coal or animal dung. Few limits are placed on open fires or incineration.
Findings from studies have also identified associations between chronic respiratory diseases and non-smoking-related factors, such as outdoor air pollution from particulate matter, indoor air pollution from biomass fuels, occupational exposure to crop dust, dust from mines, chemicals, poor socioeconomic status, poor nutrition, overcrowding, and residence in urban slums.
More than one-half of the world's households uses biomass fuels and a significant proportion of this activity takes place in conditions where much of the emission from burning cooking and heating fuels are released into the indoor living area.4
A sheer lack of awareness
Apart from the factors described above a major cause for increased numbers of COPD cases and deaths is the sheer lack of awareness and under diagnosis of the disease.
Because healthcare access is so poor and there are few facilities available for treatment, only diseases with critical acute symptoms are worthy of treatment.Early-stage COPD symptoms are typically uncomfortable but not debilitating, which can result in COPD symptoms being neglected over time.
Even when a person with symptoms does present to general practitioners, levels of under-diagnosis are still too high.
COPD was considered as the 'smoker's disease' until the last 10 years. Subsequent research and studies, however, have shown an increase in the cases of non-tobacco smoking-related COPD.
This is a major concern for the developing countries like India. Recently it was reported that at least one-fourth of patients suffering from COPD had never smoked.5
Lastly, lack of healthcare planning is also adding to ever-increasing cases. It is evident that these chronic factors, like the disease,are here to stay. Regardless, it is extremely important for patients and India's healthcare providers to know about COPD management and to spread awareness to treat and prevent the spread of the disease.5
Affordable, patient centered, sustainable medication
For India and countries with similar economic and cultural diversity, capsule-based dry powder inhalers (cDPIs) are becoming popular as a practical, economical alternative to costlier, more complicated COPD drug delivery solutions.
Unfortunately, there is not a single solution for treating COPD in patients. Manufacturers need to define the type of device they want to use based on the patient segment they want to address.
Any device now being proposed for India's patients must be designed with cost efficiency and therapeutic effectiveness in mind, as well as long-term patient adherence.
Simple and sustainable, cDPIs are cost efficient, patient friendly and offer high-efficacy in delivering a growing number of best-in-class respiratory therapeutics.
Capsules: delivering inhalable OSDs simply
There are a variety of attributes that make DPIs appealing to COPD combination drug/device developers. Much of it has to do with their cost/therapeutic performance ratio.
These attributes include manufacturing economies from a cost-of-goods (CoGs) and supply chain perspective, as well as other benefits such as patient friendly ease of use, portability and better dose compliance.
Further enhancing cDPIs value proposition to developers and patients are the economies and efficiencies related to encapsulating any drug.
Along with compressed tablets, capsules are among the most manufactured and best understood dose forms consumed by man – and DPIs that deploy active pharmaceutical ingredients (APIs) via capsules only amplify that therapeutic value proposition to patients.
A variety of inhalation technology platforms

Drug developers have a variety of inhalation technology platforms from which to choose, including pressurised metered dose inhalers (pMDIs) that are designed to use compressed propellants, mechanically pressurised DPIs that employ kinetic energy to propel APIs, and passive types such as nebulisers and soft mist inhalers.
Within these segments are a range of device types, varying in design from the simple and inexpensive to the complex and costly, with expensive features such as digital connectivity to support dose compliance.
Advantages of cDPI

DPI technology segments itself into three further subdivisions based on how the powder is stored and dosed: blister, reservoir and capsule.
Blister-type devices employ a "magazine" fed approach with each dose presented in its individual blister for aerosolisation. Reservoir devices hold a quantity of the formulation and generally use relatively complex mechanisation to metre the dose.
Finally, capsule-based DPIs metre each dose by simply containing it in an individual hard capsule which is then placed in the aerosolisation chamber for puncture and evacuation.
In emerging markets like India, where health systems and patient care is less developed, there remains a clear preference for the simplicity of capsules.6
Several studies were performed comparing the pharmacokinetics of inhalation actives between diskus and capsule DPI devices.The conclusions indicated similar pharmacokinetics between the two devices.
Based on study results, moving from a complex, expensive device to robust and inexpensive capsule device would still provide the patient with same efficacious drug, but more economically.7 It is accepted then that cDPIs can provide a means of making inhalable therapies accessible to more patients,especially for those in India's poorer districts and remote regions.
Choosing capsules for today's cDPI applications
For DPI capsule selection, there are various parameters to consider as summarised in below table.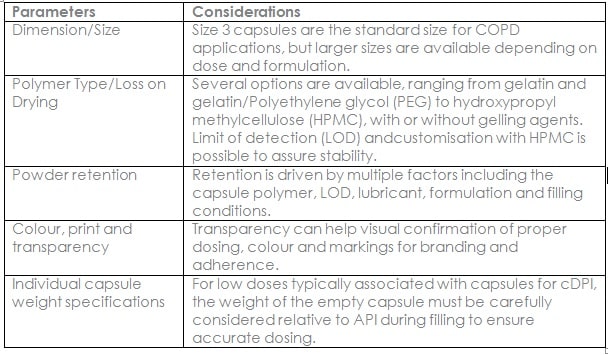 Tighter specifications for inhalation doses
In addition, the microbiological quality for inhalation dosage forms has a tighter specification than for oral applications.Inhalation dosage forms require capsules that have total aerobic microbial count(TAMC) of less than 100 cfu/g and total yeasts and moulds count (TYMC) of less than 10 cfu/g for each of yeasts, moulds and specified microorganisms.
Capsule water content should be defined carefully, as well, because moisture content that is too low or too high can impair drug delivery.
To ensure optimal product stability, it is important to start by measuring the specific water activity of the formulation and then customising the capsule's Loss on Drying (LOD) to match that value.
Inhalation powder capsule-filling operations can then be conducted in dry-box conditions of less than 30% relative humidity (RH) to maintain the low LOD. In this way, there is no water exchange between the capsule shell and the capsule fill while the system remains stable.
Gelatin capsules (without PEG) can become brittle in these dry conditions, therefore it's best to determine appropriate capsule formulation to secure required capsule flexibility.
HPMC capsules ready for cDPI formulations
Hard gelatin capsules (HGCs) have been successfully used in cDPIs for more than 30 years and have proved their viability across a broad range of cDPI applications.
Of course, HPMC capsules demonstrate similar properties, but feature others that address the challenges of some of the newest APIs and formulations, especially those with hygroscopic formulations that require specialised filling under dry environmental conditions.
The two polymers are quite different with respect to both chemical and physical attributes and the choice between the materials is ultimately based on the least impact to the formulation. One substantial difference between the two polymers is the amount of moisture in the capsule.
Gelatin capsules have higher water content than HPMC capsules across a wider humidity range. (Figure).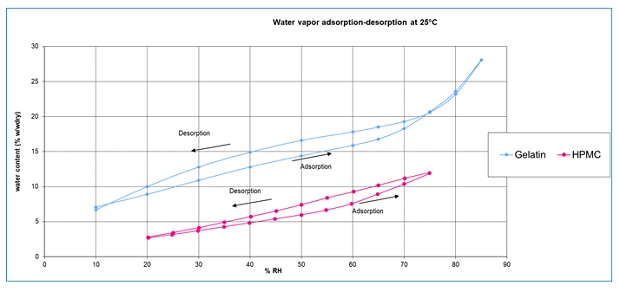 When gelatin capsules are combined with water-sensitive or hygroscopic formulations, sometimes the chemical stability of the end product can be affected, which can lead to brittleness issues.
For hygroscopic or water-sensitive formulations, the use of HPMC-based capsules is recommended over HGC DPI capsules. The advantage of using an HPMC-based capsuleis that its water content can be customised to accommodate water-sensitive formulations and achieve better control on drug delivery.
Better capsules, better cDPI delivery
The functional role of capsules in drug formulation, dose form and accurate drug delivery is hard to understate. This is especially true for specialised cDPI applications.
Capsules have to function perfectly to optimise pulmonary and systemic drug delivery to the lungs. DPI capsules require specific structural and material attributes, and these need to be tailorable to meet the needs of cDPI applications.
Regardless, achieving optimal and consistent performance often requires adjusting key design parameters including the capsule size and design, polymer/gelling agents, moisture content, lubricant levels and weight tolerances.
References
1. https://vizhub.healthdata.org/gbd-compare/
2. https://www.thelancet.com/journals/langlo/article/PIIS2214-109X(18)30409-1/fulltext
3. https://pubmed.ncbi.nlm.nih.gov/21446221/
4. https://www.ncbi.nlm.nih.gov/pmc/articles/PMC2536350/
5. https://health.economictimes.indiatimes.com/news/industry/india-continues-to-be-the-neglected-copd-capital-of-the-world/71426595
6. https://ondrugdelivery.com/advanced-capsule-technologies-dry-powder-inhalers-to-target-disease/
7. https://www.ncbi.nlm.nih.gov/pmc/articles/PMC2014609/
Authors
Aanchal Tomar: Commercial Director, India – Lonza Capsules & Health Ingredients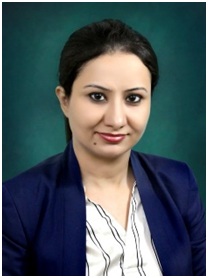 Aanchal holds a bachelors degree in Biotechnology and a Masters in Business Administration from IMT Ghaziabad. She has been with Lonza for two years, currently serving as Commercial Director for India in the Capsules and Health Ingredients business unit.
Her main responsibilities include developing and implementing commercial strategies according to company goals and objectives while aiming to accelerate growth. Her professional knowledge consists of a number of interrelated industries ranging from Pharmaceuticals, Healthcare and Research to Life sciences, Medical devices and Biotechnology.
Shreyas Joshi: Head of Business Development, India – Lonza Capsules & Health Ingredients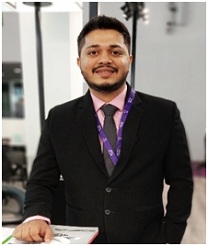 Shreyas has over 8 years of robust technical sales experience in the field of pharma excipients. He holds a bachelors degree in Pharmaceutical Sciences and a Masters in Business Administration.
Shreyas has been associated with Lonza for more than a year, and along with his team, develops new business for Lonza's Capsules and Health Ingredients (CHI) portfolio. Shreyas remains steadfast in providing the necessary technical support to position Lonza as a true knowledge partner for customers in India.
Dr. Nicolas Madit: Business Development Manager – Lonza Capsules & Health Ingredients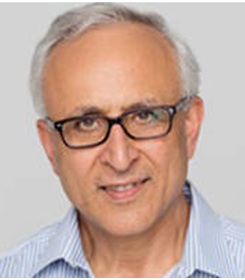 After graduating as an Engineer in Chemistry from Montpellier, Nicolas completed his PhD in organic and polymer sciences, followed by a postdoctoral scholarship on synthesis of copolymers as a specific transportation vector for drugs.
Nicolas started his industrial career in inkjet printing before joining Capsugel as a research engineer. His career at Capsugel, now Lonza, has spanned several departments, including formulation, to Licaps® production and now as Business Development Manager. During his career, Nicolas has authored several articles and filed patents in various domains related to capsules.