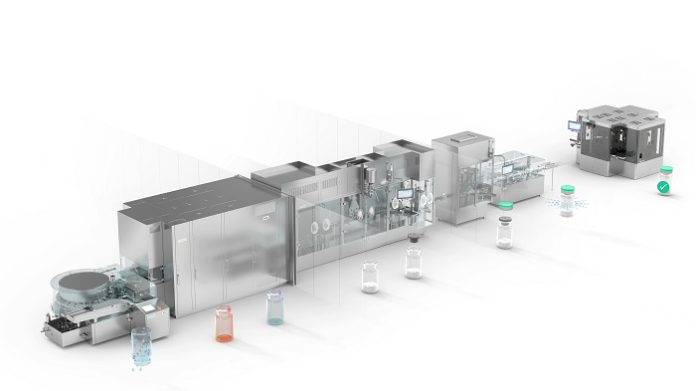 Pharmaceutical powders form the basis for numerous antibiotics that are essential for comprehensive medical care. However, margins are low and production conditions are complex. What kind of equipment and support do drug manufacturers and contract manufacturers need to make their processes as safe and efficient as possible?
Antibiotics such as cephalosporins or penicillin are a proven therapeutic approach for common conditions such as pneumonia or tonsillitis. To bypass the gastrointestinal tract and increase the effect of the drug, patients often receive infusions based on antibiotic powders. The infusion fluid is formed shortly before administration by adding purified water. It is precisely this powdered form of the antibiotics that makes the manufacturing process highly complex. Operators handle powders during the filling process that might expose them to dust. To avoid cross-contamination, pharmaceutical manufacturers and contract manufacturers must strictly separate different active ingredients and batches from one another. In addition, they must ensure that their employees do not come into contact with potentially toxic substances.
Highly complex production conditions
Take the example of penicillin: the filling specifications are particularly strict. According to the U.S. FDA, for example, manufacturers and contract manufacturers are obligated to isolate filling machines and equipment. They must also ensure separate air supply and filtration and carry out regular tests for residues of the drug. In many cases, even separate factories are needed to comply with these requirements, which in turn leads to completely secluded internal production sites with separate offices and canteens for the different shifts to ensure operator safety – a highly necessary requirement, but also a huge financial expense.
Asia's role in antibiotics production
Not all antibiotic manufacturers are or will be able to afford this kind of investment. Hence, the migration of global production capacities to Asia already began decades ago. In the 1980s, for example, China started subsidizing domestic antibiotic production. Economies of scale soon emerged, enabling manufacturers to produce large quantities of antibiotics at low prices. At the same time, the production of generics became more cost-intensive in the Western world. Increasingly demanding audits were one of the driving cost factors. Expiring patents of Western manufacturers further increased the market demand for economically viable production capacities. Many manufacturers found these in China and India.
The contribution of machine manufacturers
To be successful in this highly competitive market segment, antibiotics manufacturers and contract manufacturers not only need suitable production sites. They also need partners who have extensive knowledge of the pre-requisites for antibiotic powder production and fill-finish operations, as well as the capabilities of conducting tests for products and equipment. Moreover, familiarity with local or regional circumstances and regulatory requirements greatly help to install market-leading processes. But most of all, they need efficient equipment that meets all requirements and is geared towards high efficiency.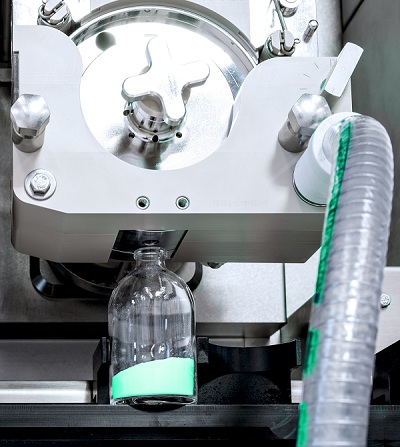 Air supply and hygiene in the filling area
While liquid pharmaceuticals already present numerous challenges to filling operations, pharmaceutical powders add an additional level of complexity due to their consistency. The finely ground active ingredients generate dust easily. Hence, machine operators must be protected from these sometimes-toxic ingredients and vice versa (i.e. to prevent cross-contamination): dust-tight barriers and a sealed air supply with efficient and powerful filter systems are essential in the filling area. For instance, an extended UDAF ventilation system cleans and tempers the circulating air of the filling area and regulates humidity. Machine cleaning is also particularly complex with powders, as the fine dust particles can settle anywhere within the machine. An open design, easy accessibility, and CIP-SIP for cleaning the product in-feed system provide a remedy.
Size as a cost factor
The larger the filling area of a machine, the higher the costs for containment, filtration, temperature control, operation, maintenance, and cleaning. Every centimeter counts; especially in cleanroom class B, where powders are usually filled. A vertical design with good accessibility and the possibility of wall mounting with maintenance options outside of the filling area offer enormous advantages. If the filling area is additionally separated from the infeed and outfeed, the space that must be dedusted and cooled with sterile dry air is reduced. A modular design that offers pharmaceutical manufacturers the flexibility to choose between different filling and weighing modules provides further space savings. In addition to size, time is another decisive factor for cost reduction: the faster format parts can be changed and the fewer product-contacting parts there are to clean, the faster a new batch can be initiated.
Variable transport for optimal speed
For example, the AFG 5000 from Syntegon processes up to 480 vials per minute. This is possible thanks to a specially developed transport system that varies between continuous and intermittent transport: while the vials enter the system continuously, the transport system precisely adjusts the speed as they progress to the individual workstations such as filling, weighing, or stoppering to avoid delays in the workflow. The vertically circulating transport system is designed to avoid idle times or jams. The carrier systems transport the vials to the respective workstations safely and quickly. As soon as the vials have been stoppered and are discharged, the shuttles return to the infeed in fast mode and are ready for the next transport. The 100% in-process control avoids any unnecessary product loss – a further important advantage to produce cost-sensitive antibiotics.
Combining safety and efficiency
If drug manufacturers want to be on the safe side when deciding on a particular fill-finish system, an early cooperation with a leading machine manufacturer is highly recommended. With more than 230 machines sold globally, Syntegon has been supporting customers in pharmaceutical powder filling for more than 60 years. The Syntegon experts are continuously passing on their extensive experience, for example in the solid lab or the dedicated powder lab in Germany, where they support pharmaceutical manufacturers in selecting the ideal filling system, determining the optimum setting parameters, or carrying out basic tests – always with the goal of combining maximum safety for operator, product, and patient with optimum efficiency.