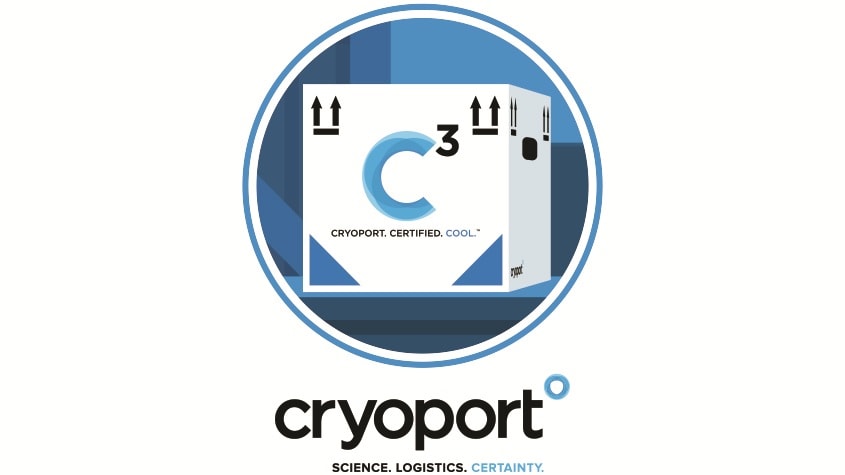 Cryoport, Inc. (NASDAQ: CYRX, CYRXW) ("Company"), the world's leading cryogenic logistics company dedicated to the life sciences industry announced it has expanded its portfolio of cold chain logistics solutions with the launch of its 'Cryoport. Certified. Cool.' solution, which will be branded as "C3 ™", in support of the new high value regenerative therapies that require temperature-controlled transportation within the 2 – 8°C temperature range during the logistics of processing these new therapies. 
Cryoport's C3 ™ shipper offers the first 2-8°C shipping solution designed for synergistic integration into its intuitive informatics platform, the Cryoportal™ Logistics Management Platform. The C3 ™ solution provides enhanced, real-time visibility, security and risk mitigation from temperature excursions for the client's critical biological commodities. The introduction of C3 ™ means that Cryoport can support the entire logistics continuum for regenerative medicine clinical and commercial programs.
Cryoport strategically selected the well-established, validated, and reusable Credo Cube™ from Pelican BioThermal for its proven temperature protection, engineered the Smartpak II™ Condition Monitoring System, which provides real-time visibility into the location and key aspects of critical shipments and, then, seamlessly integrated the system into its Cryoportal™ Logistics Management Platform for cold chain transparency, monitoring and responsiveness.The C3 ™ solution includes Cryoport's 24/7/365 Client Support, which proactively monitors shipments and takes action to mitigate risks when they occur.
Dr. Mark Sawicki, Chief Commercial Officer of Cryoport, commented, "The C3 ™ solution was developed in response to recurring requests from our clients who wanted to be able to leverage our trusted Smartpak II™ Condition Monitoring System and our Cryoportal™ Logistics Management Platform to manage their shipments, not only for the cryogenic temperature range, but also in the 2-8°C temperature band. Our new C3 ™ shipper integrates new packaging technology and leverages our cold chain logistics expertise along with our 24/7/365 logistics and client support making Cryoport's C3 ™ solution the most reliable, groundbreaking 2 – 8°C logistics solution in the life sciences industry."
"C3 ™ is a demonstration of Cryoport's ability to scientifically-design and implement logistics solutions for the life sciences that provide steadfast protection of our clients' valuable biologic materials, including for regenerative therapies, which is our most rapidly growing market."
About Cryoport, Inc.
Cryoport is the life sciences industry's most trusted global provider of cold chain logistics solutions for temperature-sensitive life sciences commodities, serving the biopharmaceutical market with leading-edge logistics solutions for biologic materials, such as regenerative medicine, including immunotherapies, stem cells and CAR-T cells. Cryoport's solutions are used by points-of-care, CRO's, central laboratories, pharmaceutical companies, manufacturers, university researchers et al; as well as the reproductive medicine market, primarily in IVF and surrogacy; and the animal health market, primarily in the areas of vaccines and reproduction. Cryoport's proprietary Cryoport Express Shippers, Cryoportal™ Logistics Management Platform, leading-edge SmartPak II™ Condition Monitoring System and geo-sensing technology, paired with unparalleled cold chain logistics expertise and 24/7 client support, make Cryoport the end-to-end cold chain logistics partner that the industry trusts.

Cryoport is dedicated to: 
simplifying global cold chain logistics through innovative technology, unmatched monitoring and data capture and support, including consulting;
delivering the most advanced temperature controlled logistics solutions for the life sciences industry; and
providing vital information that provides peace of mind throughout the life of each logistics process.
For more information, visit www.cryoport.com. Sign up to follow @cryoport on Twitter at www.twitter.com/cryoport.