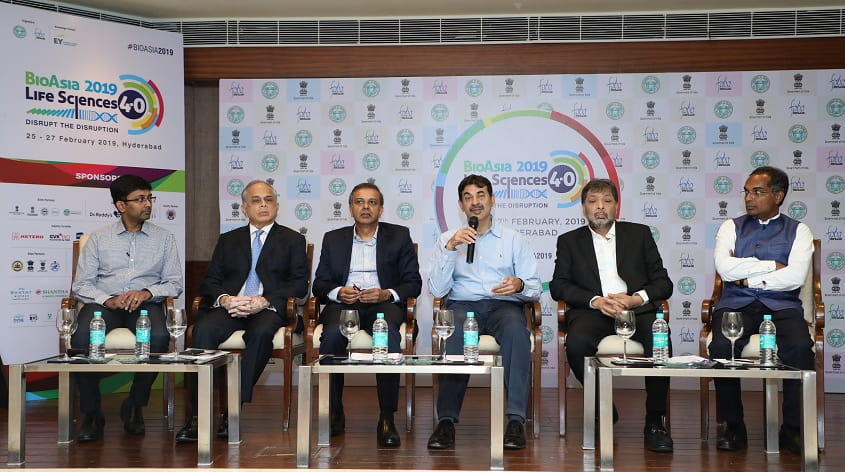 Over 1,500 delegates from more than 50 countries to attend Asia's largest Biotechnology and Life-sciences forum. About 100 speakers from Government, Industry, Investors and Academia to participate in 3-day event in Hyderabad.
The annual global life sciences confluence hosted by the Government of Telangana, announced that the 16th Edition of the event, to be held at Hyderabad between February 25 – 27, 2019 – will deliberate on the disruption required in Lifesciences, Healthcare and Biotech industry.

The theme for this edition is "Life Sciences 4.0 – Disrupt the Disruption", which will focus will be on healthcare being re-imagined as a result of technological disruption.
Mr. ESL Narasimhan, Governor of Telangana will inaugurate the event on February 25, 2019. The details of the 16th Edition of BioAsia were shared by Mr. Jayesh   Principle Secretary – Industries & Commerce & IT, Govt of Telangana in the presence of Mr. K Satish Reddy, Chairman, Dr. Reddy's Laboratories, Mr. Suresh Chukkapalli, Honorary Consul General, Republic of Korea (Hyderabad), Mr. Shakthi M. Nagappan, CEO, BioAsia & Director (Life Sciences), Government of Telangana and Dr. Srivari Chandrasekhar, Director, CSIR-IICT.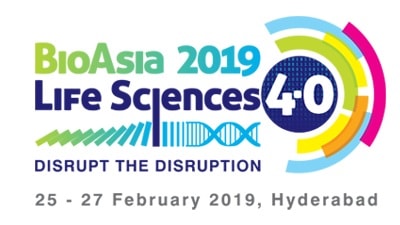 Attractions at BioAsia 2019
"Scientific Enabler Pavilion" in partnership with CCMB, DRILS and IICT to showcase the next-gen technologies and familiarize the scientific community with the latest equipments and experience wide variety of technical developments in the field.
"Start-up Stage", will bring together 75 most cutting-edge and innovative start-ups, from India, Canada, Estonia, Switzerland, USA and Netherlands, in the realm of pharma, bio-tech, life sciences, health-tech and med-tech sectors chosen from over 300 applications received.
"Fireside Chat" between Prof. Krishnamurthy Subramaniam, Chief Economic Advisor (GoI)&Mr. KT Rama Rao, Working President, TRS on the topic Shaping India's role in Global healthcare – A Political and Economic Perspective.
"CEO Conclave" on the topic 'India for the world: Exploring new horizons! How can India seize upside of disruption' with 6 eminent CXOs
Over the past 15 years, BioAsia has helped attract investments to the tune of about Rs.15,000 crores and organized around 16,000 business partnering meetings during the event. Eminent leaders and senior government officials from around 95 countries have attended the event and close to 250 MoUs & LoIs have been exchanged at the forum. This edition of BioAsia has South Korea as the Partner Country with South Africa and Spain being the international partners for the event.
These partners will lead a sizeable delegation from the related fields from their respective countries. 4 other Indian States have joined with BioAsia in organizing the next BioAsia including Karnataka, Odisha, Assam and Gujarat making it truly a National initiative.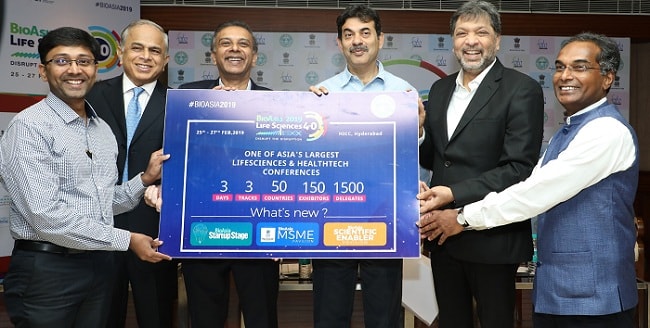 While announcing the details, Mr. Jayesh Ranjan, Principal Secretary – Industries & Commerce & IT, Govt of Telangana said, "BioAsia today serves as an industry platform for networking and policy advocacy in addition to investment promotion. The State Government is committed to utilize this global platform to advocate the concerns of the industry and help build a conducive ecosystem for businesses to thrive. As an outcome of the deliberations at the 15th edition of BioAsia, an Innovator Cell at Central Drugs Standard Control Organization (CDCSO) has now been established by the Government of India."
The event will bring around 100 eminent speakers from across the globe, with some of the best minds and leaders from their fields, including Prof. Krishnamurthy Subramaniam, Chief Economic Advisor to Govt of India, Dr. Don Cleveland, Ludwig Cancer Research, Univ. of California, San Diego (Breakthrough Prize for Life Sciences 2018), Dr. Renu Swarup, Secretary, Department of Biotechnology, Government of India, Dr. S Eswara Reddy, DCGI, CDSCO, Mr. KT Rama Rao, Working President, TRS, Mr. Badhri Srinivasan – Head, Global Development Operations – Novartis, Mr. Kris Gopalakrishnan, Chairman, Axilor Ventures, Mr. Thomas Arista, Dy Director, US FDA, Mr. Kurt Stoeckli, President and Chief Scientific Officer, Glenmark Pharma, Mr. Glenn Saldanha, CMD, Glenmark Pharma, Mr. Satish Reddy, Chairman, Dr. Reddy's Laboratories, Ms. Karenann Terrell, Chief Digital and Technology Officer, GSK, UK, Mr. Peter Lee, Corporate Vice President, Microsoft Healthcare, USA, Mr. Atanu Roy, CIO, Sun Pharma and Ms. Sangita Reddy, Joint MD, Apollo Hospitals to name a few.
About BioAsia:
BioAsia is born with a vision to enhance, enrich and encourage newer innovations, path-breaking discoveries and effective solutions in the biotechnology industry by offering a vibrant global platform for convergence of the key stakeholders – Biotech & Biopharma Companies, research institutions, academia, investors, service providers, policy makers, regulators and analysts. BioAsia is focused in its efforts – to drive the growth of the industry by enabling an effective environment for fostering collaborations, JV's M&A's; ensure knowledge and experience sharing by global industry players to benefit all stakeholders; promote innovations and initiatives through appropriate awards and recognitions; play a pivotal role in advocating issues to the policy makers and chartering the road-map of bio-technology.
BioAsia is a dynamic platform for companies -to exhibit, launch and showcase their unique strengths, products and services. BioAsia is playing the role of a key catalyst in mobilizing all elements that are required to drive the growth of the emerging industry of Biotechnology as well as optimize the immense business potential of biotech. On a larger level, BioAsia is working to drive a global transformation from the treatment of illness to wellness.
About FABA (Federation of Asian Biotech Associations):
The Federation of Asian Biotech Associations [FABA], is a non-profit registered society engaged in various activities related to promoting Biotechnology in Asian countries. FABA, headquartered at Hyderabad made its humble beginning in 2004 and has achieved a significant landmark in creating a common platform for interaction among member countries and discuss the issues of common interest for improving the biotech space including Technology Transfer, resource sharing, business collaborations, Industry-Academia linkage, cross border trade and investments, etc. among its member countries.
FABA has a strong network base in 20 Asian countries including China, India, Bangladesh, Malaysia, Philippines, Russia, Kazakhstan, Pakistan, Israel, Iran, Indonesia, Nepal, Japan, South Korea, Singapore, Thailand, Sri Lanka and UAE. Besides, FABA has entered into working understandings with Non-Asian organizations like European Federation of Biotechnology, Biocat (Spain), Maryland India Business Round Table (USA), Bio Industry Park (Italy) and Association of German Biotech companies (Germany), etc.