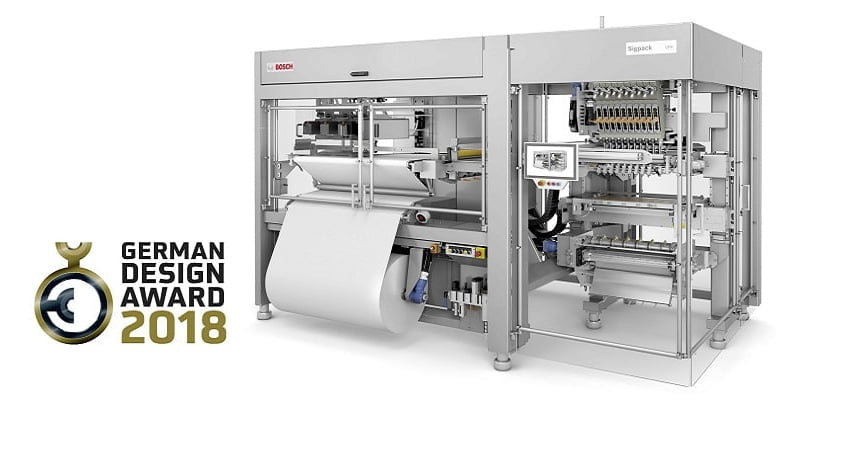 The Sigpack VPF (Vertical Platform for Flat Pouches), the first freely scalable flat pouch machine from Bosch, has been honoured with the German Design Award 2018 in the Excellent Product Design category.
The German Design Council presents the prestigious award on an annual basis. The German Design Award is the second prestigious accolade for the Sigpack VPF following the German Packaging Award in 2016.
Production to suit changing customer requirements
The Sigpack VPF from Bosch represents a revolutionary concept for the filling of flat pouches with powder products such as sugar: The equipment stands out because it breaks new ground in terms of flexibility. Manufacturers from the food and pharma industries will be able to scale production from two to 12 lines and/or to change pouch sizes quickly in order to meet current market demand. A further benefit of the Sigpack VPF is its innovative dosing system, whereby each line has its own dosing chamber and its own stock of product. This means for example two products can be filled on the same machine at the same time.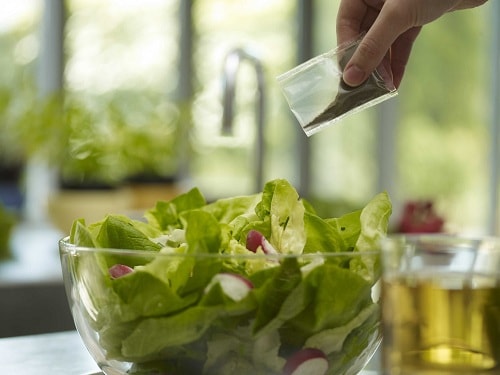 The German Design Award
The German Design Council is one of the world's leading competence centers for communication and brand management in the field of design. The organization presents the German Design Award on an annual basis. A high-profile, international jury honours innovative products, projects, their producers and their designers.
Contact:
Daniel Bossel
phone: +41 58 674-7311
Contact person for press inquiries:
Angelina Bosse
phone: +41 58 674-7791
Based in Waiblingen near Stuttgart, Germany, and employing 6,300 associates, the Bosch Packaging Technology division is one of the leading suppliers of process and packaging technology. At over 30 locations in more than 15 countries worldwide, a highly-qualified workforce develops and produces complete solutions for the pharmaceuticals, food, and confectionery industries. These solutions are complemented by a comprehensive after-sales service portfolio. A global service and sales network provides customers with local points of contact. More information is available online at www.boschpackaging.com
The Bosch Group is a leading global supplier of technology and services. It employs roughly 390,000 associates worldwide (as of December 31, 2016). The company generated sales of 73.1 billion euros in 2016. Its operations are divided into four business sectors: Mobility Solutions, Industrial Technology, Consumer Goods, and Energy and Building Technology. As a leading IoT company, Bosch offers innovative solutions for smart homes, smart cities, connected mobility, and connected manufacturing. It uses its expertise in sensor technology, software, and services, as well as its own IoT cloud, to offer its customers connected, cross-domain solutions from a single source. The Bosch Group's strategic objective is to deliver innovations for a connected life. Bosch improves quality of life worldwide with products and services that are innovative and spark enthusiasm. In short, Bosch creates technology that is "Invented for life." The Bosch Group comprises Robert Bosch GmbH and its roughly 440 subsidiaries and regional companies in some 60 countries. Including sales and service partners, Bosch's global manufacturing and sales network covers nearly every country in the world. The basis for the company's future growth is its innovative strength. At 120 locations across the globe, Bosch employs some 59,000 associates in research and development.
Additional information is available online at www.bosch.com, www.iot.bosch.com, www.bosch-press.com, www.twitter.com/BoschPresse