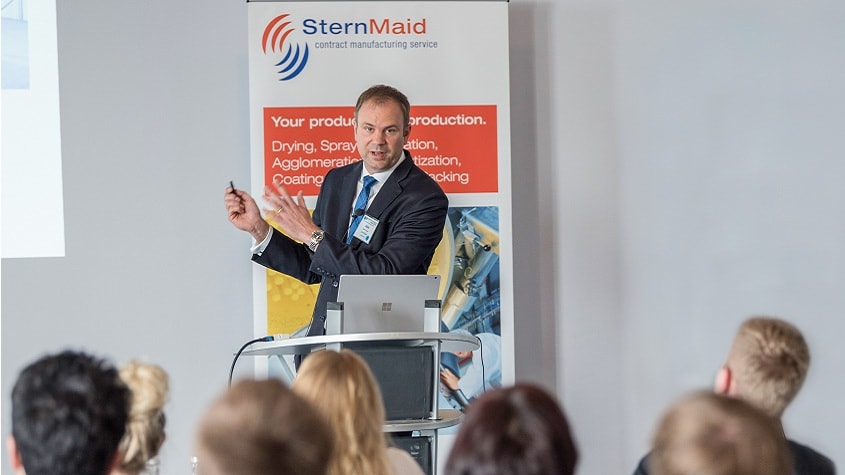 SternMaid issued an invitation to an international symposium with scientific lectures, product tasting and a tour of the production facility.
Together with the Bioactives World Forum, the contract manufacturer SternMaid organized an international symposium on microencapsulation at the InterCity Hotel Hamburg Dammtor-Messe in May. Some 100 representatives of the food, pharmaceutical and food supplement industries accepted the invitation to Hamburg for an exchange of information and allowed themselves to be inspired by the diversity of topics covered by the lectures.

Internationally acknowledged experts from the USA, Switzerland, the UK and Germany presented topical subjects such as encapsulation by means of coacervation and extrusion, aerogels for use in foods and pharmaceutical products or matrix encapsulation of extremely small particles.
What do the different encapsulation techniques cost? What advantages does modified starch offer for microcapsules? What parameters influence batch and continuous processing in fluidized bed encapsulation? How can the solubility of hydrocolloids be optimized by encapsulation? These and many other questions were answered by well-known scientists and players from the relevant industries in their presentations.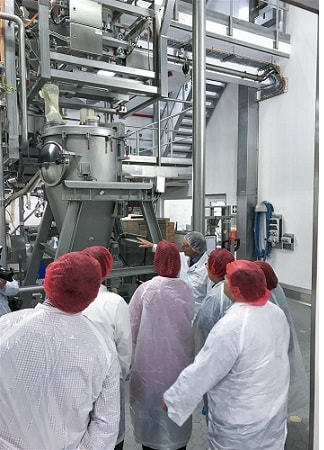 For example, Prof. Dr Stephan Drusch from the Technical University of Berlin presented various materials that can be used for encapsulating active substances. He finished his lecture by saying that industry and research should cooperate closely in the fields of process design and upscaling and also in analyzing the interactions between different substances. Dr Michael Jacob from Glatt Ingenieurtechnik gave an overview of processes by which the properties of particles can be optimized, and Charles Brain from Ingredient Innovations International used concrete examples to explain how nanoencapsulation can increase the bioavailability of ingredients.
In the breaks between lectures, the participants were able to taste samples of different products such as sweets, snacks and baked goods. Dr Marc Meyers from Balchem Corporation, for example, presented chewing gum with microencapsulated omega-3 fatty acids and cinnamon roll dough with an encapsulated raising agent.
During the tour of the plant, SternMaid demonstrated the practical relevance of the lectures by showing, at the different stations, how ingredients can be encapsulated and processed by means of fluidized bed and blending technology.
As SternMaid's Commercial Manager, Mark Riemer, said: "We are glad that so many guests accepted our invitation and that we have received such good feedback, due not least to the interesting content and high quality of the lectures. What is more, the symposium offered an excellent platform for networking and fruitful discussions. All in all, we can say that the event was a full success and exceeded all our expectations."
About SternMaid:
SternMaid GmbH & Co. KG with its registered office in Wittenburg, in the Greater Hamburg area, is a member of the owner-managed Stern-Wywiol Gruppe. For over 35 years, the group of companies consisting of 12 specialist firms in Germany, focussing on specific industries, 16 affiliates abroad and a total of 18 production sites has been among the successful enterprises operating internationally in the world of Food and Feed Ingredients. The Stern-Wywiol Gruppe employs a total staff of over 1,300; they include 80 R&D specialists who develop products and formulations at the 15 applications laboratories owned and operated by the group of companies.
SternMaid was established in 1996 and has since become one of Europe's leading contract manufacturers. With a staff of over 300, the company offers a wide spectrum of services. Besides contract manufacturing of food ingredients and food supplements in powder form, and also pharmaceutical excipients, SternMaid blends and processes special ingredients – for example for baby food, vitamin mixtures, OTC and medical products, and also nutriments for special dietetic purposes.
In all, 15 different blending lines are available to meet all manner of different requirements. The range of plant and machinery is complemented by a modern fluidized bed unit permitting gentle drying, agglomeration, microencapsulation, instantization and granulation. With further offers that include warehousing, co-packing, logistics and purchasing, the contract manufacturer provides a comprehensive range of services, all from one source. After the successful commissioning of Plant II in 2017, the next steps in expansion have already been initiated.
You will find more information at: www.sternmaid.de/en