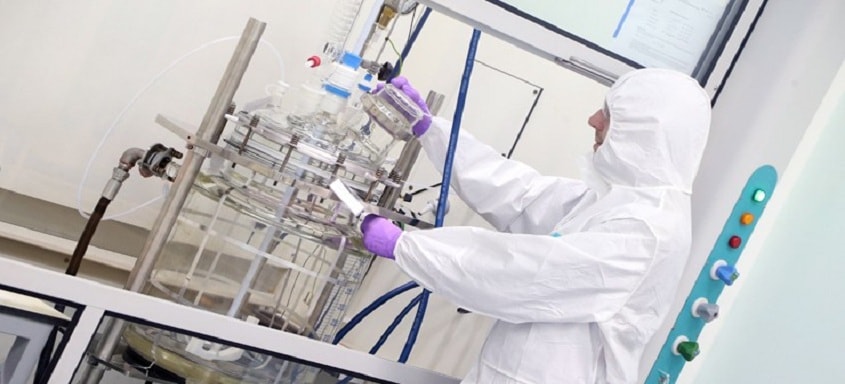 BRITISH biotech business TopiVert has recently initiated clinical trials with two of its narrow spectrum kinase inhibitor (NSKI) drug candidates following support from Onyx Scientific.
The contract research organisation (CRO) and small scale API specialist has assisted TopiVert with the rapid development of two key drug compounds. The biotech company is developing next-generation medicines for the treatment of chronic inflammatory diseases of the gastrointestinal (GI) tract and the eye.
An oral formulation of TOP1288 has just entered a first-in-man Phase I study for the treatment of ulcerative colitis (UC), while a Phase IIa study with a rectal formulation continues to progress in parallel. The clinical-stage biotech's second drug candidate is TOP1630, which has commenced a Phase I/IIa proof-of-concept (POC) study, involving an ophthalmic solution, in patients with dry eye syndrome (DES) in the USA.
Matthew Fyfe, head of chemistry at TopiVert, said: "We have been working with Onyx Scientific for several years and they have consistently delivered high quality API for IND-enabling toxicology studies and early phase clinical trials on time and in a cost-effective manner.
"Supported by their technical team, we have been able to accelerate, scale-up and produce GMP batches, which are now being used in our clinical trials. It has been a great collaboration all round."
Both of TopiVert's products are NSKIs that target several important kinases in signalling cascades in inflammatory cells. These agents display two key attributes which promise enhanced efficacy and improved safety over current therapies, specifically, simultaneous inhibition of key kinases playing pivotal roles in multiple inflammatory pathways and a localised, non-systemic mode of action. Clinical results are expected from both studies in the second half of this year.
Denise Bowser, commercial director at Onyx Scientific, said: "We have supported TopiVert from a very early stage and are really pleased to see them progress their compounds into clinical trials.
"They are a great example of a drug developer that has been able to speed up the development process by utilising our integrated approach with regards to solid state chemistry, salt screening, GMP synthesis and API manufacturing."
With specific expertise in development chemistry and solid state chemistry, Onyx Scientific provides clients with early phase API production services under current GMP regulations. Onyx Scientific supported TopiVert's programmes by progressing its products from early scale-up and solid form studies through to GMP manufacturing at its facility in North-East England.
For more information about Onyx Scientific please visit http://www.onyxipca.com/ 
About Onyx
Now in its 17th year of trading, Onyx Scientific is one of the most well-established early phase pharmaceutical chemistry companies. Supporting clients' pre-clinical, development and early stage API manufacturing needs. The CRO's team of experts enable drug developers to progress lead candidates, scale-up and meet clinical deadlines through Phases I-II.  
About TopiVert
TopiVert is a clinical-stage biotechnology company developing narrow spectrum kinase inhibitors as novel, locally-acting medicines for the treatment of chronic inflammatory gastrointestinal (GI) and ocular diseases. The Company's lead GI programme, TOP1288 for the treatment of ulcerative colitis, is currently being evaluated in two clinical studies: a Phase IIa proof of concept study with a rectal formulation, and a Phase I study with an oral formulation of TOP1288. In parallel, its lead ophthalmology programme, TOP1630 for dry eye syndrome (DES), is currently being evaluated in a Phase I/IIa proof of concept study in the US. All three clinical studies are due to report in the second half of 2017. Current therapies for these debilitating diseases provide inadequate long-term control in a high proportion of patients and considerable unmet medical need remains. The company commenced operations in early 2012 and its investors include Touchstone Innovations, SV Life Sciences, NeoMed and Johnson & Johnson Innovation-JJDC, Inc.
TOP1288: – The Phase I study is designed to assess the safety, pharmacokinetics and pharmacodynamics of TOP1288 when delivered orally in healthy volunteers. A Phase IIa POC study of a rectal formulation of TOP1288, which is on-going in Europe, aims to demonstrate the efficacy and safety of the compound in the treatment of UC when the drug is delivered directly to the site of disease in the colon.  This POC study with a rectal formulation is intended to guide the development of an oral formulation of TOP1288 as the intended commercial presentation. Results from both clinical studies are expected in the second half of 2017.
 TOP1630: – When administered as eye drops, TOP1630 is absorbed and retained in target inflammatory cells in the cornea with only minimal systemic exposure, making it an ideal topical eye therapy. TOP1630 has the potential to provide rapid symptomatic relief together with long term efficacy in the treatment of the signs and symptoms of DES. The POC study in DES patients is expected to report in the second half of 2017.
Ulcerative colitis and inflammatory bowel disease (IBD)
IBD is a term used to describe several diseases that involve inflammation of the gastrointestinal tract. The two most common forms of IBD, Crohn's disease and UC, together affect over 4 million people worldwide. They are both chronic relapsing conditions that cause bloody diarrhoea, abdominal pain and significant reductions in a patient's quality of life. Current treatments for UC involve administration of oral, rectal or intravenous/sub-cutaneous anti-inflammatory and immunomodulatory therapies, including biologics. At least 40% of patients have poorly controlled disease and around 20% require surgery to manage the condition.
DES is a common inflammatory disorder of the front of the eye which is estimated to affect 5-6% of adults, with women more commonly affected than men. More than 15% of the population over the age of 65 suffer from DES. Current treatments have only limited efficacy in treating both the signs and symptoms of the disease and often produce unpleasant side-effects.