As the pharmaceutical industry has changed and grown in the last two decades, there are increasing concerns about the safe handling of active pharmaceutical ingredients (APIs)– particularly in the process of removing catalysts from API slurries which has a direct impact on the quality of pharmaceutical products.
A leading expert in liquid-solid separation, BHS-Sonthofen supports Pharma customers in implementing new filtration solutions to improve efficiency and reduce environmental impact in API production.

Catalysts are often used to initiate, accelerate, or control reactions in the production of APIs. Once the API is synthesized, these catalysts must be removed from API slurries. Currently, most API slurries are clarified with the use of manual plate filters, filter presses, bag filters, cartridge filters and other conventional filter equipment. These units not only require manual operations for cake discharge and cleaning between batches or campaigns, but also suffer from high labor and maintenance costs as well as high disposal costs. In addition, they expose operators and the environment to toxic and hazardous solvents and solids as well as to used and contaminated filter cloth, bag filters and filter cartridges.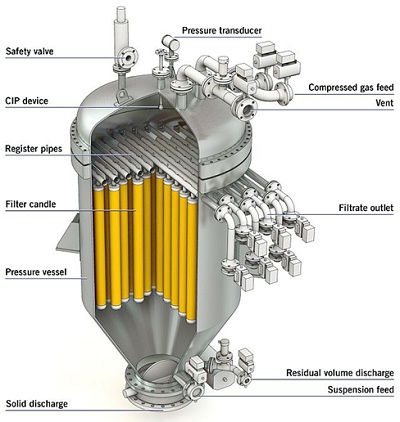 Therefore, many pharmaceutical companies are increasingly looking for alternative technological approaches to make the clarification of API slurries both more efficient and safer. "The good news is that there actually are real alternatives to conventional filter equipment – and they are already being used successfully by a growing number of our customers in the chemical and pharmaceutical industry," said Detlef Steidl, Director of Sales, Filtration Technology at BHS-Sonthofen. "These technologies are particularly suitable for use in production plants of the pharmaceutical industry.As one of the leading companies in the field of solid-liquid separation, we support our clients intensively in the selection and implementation process of these solutions – in existing as well as new plants for the production of APIs."

Candle and Pressure Plate Filters to optimize API clarification process
New,alternative approaches in the clarification of API slurries are mainly accomplished by usingcandle filters and pressure plate filters – a special focus of the German filtration experts. The two solutions have many similarities: they are batch-operated pressure-filtration systems and are installed for clarification and recovery applications from liquids with low solids content.

"Most importantly: both solutions have proven to be extremely reliable and a more efficient alternative to the use of manual and conventional filter equipment", says Steidl. "They provide for higher quality filtration, improved yields with fully automated and contained operations.That makes them a very future-oriented investment: although they have an initial higher capital cost compared with manual systems, they result in a more reliable, efficient, and optimized process – while at the same time reducing risks for operators and the environment.Moreover, operating costs are much lower so that the fully automatic systems pay off after a short period of time."

Structure of filtration cake is decisive for selection of filtration technology
The performance of the two solutions is comparable, the main difference lies in the technological approach: candle filters include vertical candles, while pressure plate filters have filter elements that are arranged horizontally. The decision as to which of the two technological approaches is better suited for the respective application essentially depends on the structure of the cake: Cakes that are stable when oriented vertically are compatible with candle filters, whereas cakes that are stable when horizontal are best handled by a pressure plate filter. For example, very dense cakes or very fluffy cakes will be better processed on a pressure plate filter. Also, the tendency for bigger (> 20 mm) cake height, especially with more heavy solids, is preferred to be handled on the horizontal plate filter.

Candle and pressure plate filtration can remove 1–3-μm particles and allow for pre-coated operation. In some applications, candle filters can remove even finer particles, as small as 0.5 μm. Both systems use synthetic filter media, but pressure plate filters can also use metal media for high-temperature applications (greater than 200°C) or if steaming is required.

Clean-in-place (CIP) operations can be conducted similarly in both systems. The vessel is filled with cleaning fluid that is circulated while gas is blown in the reverse direction, which creates a turbulent mixture that has a quasi-ultrasonic cleaning effect. Cleaning of pressure plate filters is enhanced by the ability to vibrate the plates – reducing manual operations to a minimum.

Extensive lab testing secures optimal results
To ensure that the new filtration technology leads to optimal results, the BHS experts leave nothing to chance: they conduct extensive laboratory tests to provide a solid, informed basis for customer's decision.The test evaluates the filter media, operating pressure, and cake thickness to determine the optimum clarification system design and size.Only based on these tests, the BHS experts then recommend a specific solution to the customer."We consider ourselves specialists in solid-liquid filtration, rather than restrict our expertise to just one particular technology", says Steidl. "Therefore, we carefully investigate the different alternatives before we select the best solution for the specific case.Our experience shows that the results of these tests are extremely accurate and realistic – which means that we promise nothing that will not be reflected in actual results later."

About BHS-Sonthofen
BHS-Sonthofen is an owner-operated group of companies in the field of machinery and plant engineering based in Sonthofen, Germany. The company offers technical solutions for mechanical process technology, concentrating primarily on mixing, crushing, recycling and filtration. BHS-Sonthofen has a global presence with more than 400 employees and several subsidiaries.

Opting for the right technology in solid-liquid filtration plays a key role in increasing efficiency and process optimizations in large plants. BHS-Sonthofen has been  specializing in cake filtration for over 60 years. The first rotary pressure filter was developed as early as 1953. The Filtration Technology division manufactures filters and filtration systems for mechanical solid-liquid separation using pressure or vacuum filtration. BHS-Sonthofen not only offers its customers a comprehensive product range. One of the central tasks in every project is weighing up different alternatives against each other with the customer, select the best solution for the specific case, and implement it. The focus is on processes in the chemical, pharmaceutical, food and plastics industries, oil and gas as well as energy and resource extraction.
For further information, please visit: www.bhs-sonthofen.de