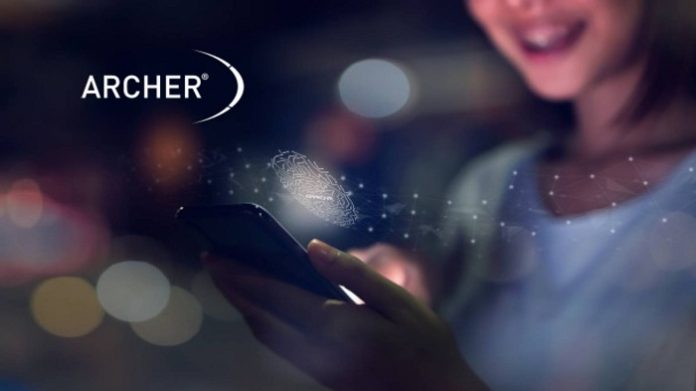 AstraZeneca will collaborate with ArcherDX, a genomic analysis company focused on precision oncology, to use personalised cancer monitoring to detect minimal residual disease (MRD) in patients with early-stage non-small cell lung cancer (NSCLC).
ArcherDX's personalised assay will be used in AstraZeneca's recently launched Phase III MERMAID-1 trial to evaluate the effect of adjuvant treatment with Imfinzi (durvalumab) plus chemotherapy versus chemotherapy alone on disease-free survival (DFS). The trial is in patients with completely resected, Stage II and III NSCLC who show evidence of MRD suggesting a high risk of relapse.
MRD describes a very small number of otherwise undetectable cancer cells that shed circulating tumour DNA (ctDNA) in the blood. Monitoring for the presence of MRD using ctDNA may provide valuable information on how well a treatment is working, inform prognosis, and detect if a patient's cancer has returned. Ultimately, MRD detection may enable physicians to intervene earlier and tailor the best treatment options for individual cancer patients.
Charles Swanton, MD, PhD, Professor at UCL and the Francis Crick Institute, Chief Clinician at Cancer Research UK, leader of Tracking Cancer Evolution through Therapy (Rx) (TRACERx) and international coordinating investigator in the MERMAID-1 trial, said: "MERMAID-1 is a novel randomised trial using ctDNA to identify patients at high risk of recurrence after surgery who may benefit from intervention with immunotherapy. We hope this approach will lead to better patient outcomes by intensifying treatment for patients most likely to relapse, while avoiding additional chemotherapy after surgery when not needed."
José Baselga, Executive Vice President of Oncology R&D, said: "While detecting and monitoring for minimal residual disease has proven challenging in solid tumours, the MERMAID-1 trial and this partnership stand to break new ground in lung cancer. This innovative endeavour is reflective of our strategy to improve cancer outcomes by treating patients as early as possible. It is in this early setting that the chance of cure is higher and identifying personalised, effective treatments could increase survival and improve quality of life."
Jason Myers, Chief Executive Officer and co-founder of ArcherDX, said: "While there has been progress in improving adoption of precision oncology for patients with late-stage cancers, there is a pressing need to accelerate access to precision oncology for all patients diagnosed with cancer regardless of the stage or location of the care setting. AstraZeneca shares this critical mission, and we are pleased to partner with them in the development of biomarker-driven therapies and the expansion of personalised cancer monitoring for all patients."
Under the terms of the agreement, ArcherDX will perform whole exome sequencing of NSCLC patient samples and generate highly sensitive, personalised ctDNA assays to test for MRD that remains after a patient's successful surgery. The ongoing development of these assays is informed by the TRACERx study, funded by Cancer Research UK and led by UCL and the Francis Crick Institute.
Imfinzi is being tested in an extensive development programme in lung cancer with several ongoing Phase III trials in earlier stages of NSCLC in potentially curative settings.
AstraZeneca in lung cancer
AstraZeneca has a comprehensive portfolio of approved and potential new medicines in late-stage development for the treatment of different forms of lung cancer spanning different histologies, several stages of disease, lines of therapy and modes of action. AstraZeneca aims to address the unmet needs of patients with EGFRm tumours as a genetic driver of disease, which occur in 10-15% of NSCLC patients in the US and EU and 30-40% of NSCLC patients in Asia, with the approved medicines Iressa (gefitinib) and Tagrisso, and its ongoing Phase III trials LAURA, and FLAURA2.5-7
AstraZeneca is committed to addressing tumour mechanisms of resistance through the ongoing Phase II trials SAVANNAH and ORCHARD which test Tagrisso in combination with savolitinib, a selective inhibitor of c-MET receptor tyrosine kinase, along with other potential new medicines. Enhertu (trastuzumab deruxtecan), a HER2-directed antibody drug conjugate is in development for metastatic non-squamous HER2-overexpressing or HER2-mutated NSCLC including trials in combination with other anticancer treatments.
An extensive late-stage Immuno-Oncology programme focuses on lung cancer patients without a targetable genetic mutation which represents up to three-quarters of all patients with lung cancer.8 Imfinzi, an anti-PDL1 antibody, is in development for patients with advanced disease (Phase III trials POSEIDON and PEARL) and for patients in earlier stages of disease including potentially curative settings (Phase III trials MERMAID-1, AEGEAN, ADJUVANT BR.31, PACIFIC-2, PACIFIC-4, PACIFIC-5, and ADRIATIC) both as monotherapy and in combination with tremelimumab and/or chemotherapy. Imfinzi is also in development in the Phase II combination trials NeoCOAST, COAST and HUDSON in combination with potential new medicines from the early-stage pipeline.
AstraZeneca in Immuno-Oncology
Immuno-oncology (IO) is a therapeutic approach designed to stimulate the body's immune system to attack tumours. The Company's IO portfolio is anchored by immunotherapies that have been designed to overcome anti-tumour immune suppression. AstraZeneca is invested in using IO approaches that deliver long-term survival for new groups of patients across tumour types.
The Company is pursuing a comprehensive clinical-trial programme that includes Imfinzi as a monotherapy and in combination with tremelimumab in multiple tumour types, stages of disease, and lines of therapy, and where relevant using the PD-L1 biomarker as a decision-making tool to define the best potential treatment path for a patient. In addition, the ability to combine the IO portfolio with radiation, chemotherapy, small targeted molecules from across AstraZeneca's Oncology pipeline, and from research partners, may provide new treatment options across a broad range of tumours.
AstraZeneca
AstraZeneca is a global, science-led biopharmaceutical company that focuses on the discovery, development and commercialisation of prescription medicines, primarily for the treatment of diseases in three therapy areas – Oncology, Cardiovascular, Renal & Metabolism, and Respiratory & Immunology. Based in Cambridge, UK, AstraZeneca operates in over 100 countries and its innovative medicines are used by millions of patients worldwide.