Powder containment and aseptic transfer valve specialist, ChargePoint Technology has appointed Andrew McCreadie as their new business development manager for Europe, Middle East, India and Africa (EMEIA).
Andrew's appointment is in response to the increased demand for its containment technologies from the aseptic and high potency pharmaceutical manufacturing sectors.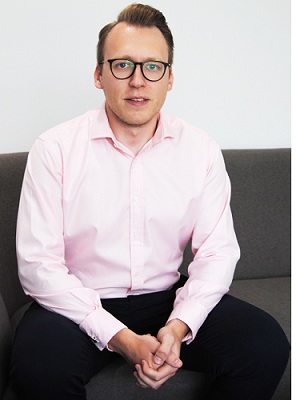 Malcolm Cunningham, Head of Sales for EMEIA at ChargePoint commented: "Andrew will be pivotal in supporting pharmaceutical manufacturers and OEMs in this region with their containment challenges and introducing new technologies for use in hazardous environments to the market."

"India, for example, continues to experience exceptional growth rates in the pharmaceutical industry with more and more pharma companies setting up facilities in this region to benefit from a much more cost-efficient alternative to Europe and US. Our expanding team in the region will assist towards reaching our growth targets within these relatively untouched markets."

Andrew holds a Mechanical and Automotive Engineering degree from Sheffield Hallam University and having held positions at Palamatic and Bosch Thermotechnology, he has significant experience in hazardous equipment. Andrew joins the company to cover the Indian,Middle East and African territories as well as supporting the company's channels in Italy and Greece.

ChargePoint made its commitment to India clear by taking part in the Automed Systems Pvt Ltd Annual Knowledge Summit 2018 in Vishakapatnam and Hyderabad. Company experts performed a live OEB5 containment demonstration to a panel of industry leading technology providers.

Andrew McCreadie commented on his new territories, "India is emerging as a competitive outsourcing hub and is playing a major role in the global pharma industry in manufacturing APIs and intermediates for drug makers. Global pharma companies are establishing long term relationships with Indian manufacturing companies and contract research providers in the country and it is our goal to support the market with effective containment strategies.

"Growth in Italy is also a key focus for 2018 due to its strategic location with the growing pharmaceutical markets of the Middle East and the region's increasing production of hormones.

"Being able to further support our sales channels in Italy allows ChargePoint Technology access to these emerging markets and provides direct links to the pharmaceutical equipment manufacturers in those territories."
About ChargePoint Technology
ChargePoint Technology is the market leader in powder containment and aseptic transfer valves providing operator safety and sterility assurance for the pharmaceutical, biotech, chemical and other process industries. Its client portfolio includes some of the top 10 pharmaceutical companies and reaches into North America, UK, Europe, Japan, China and India, amongst others.

ChargePoint Technology manufactures its cutting-edge devices in its purpose-built facility in Liverpool, UK, employs more than 60 employees across the globe and secured a multi-million pound investment from LDC, part of Lloyds Banking Group in January 2017, to meet the increase in global demand for its products and solutions.

The product range includes:
ChargePoint PharmaSafe® - Powder containment valves offering the highest levels of containment performance for HPAPIs
ChargePoint AseptiSafe® - Aseptic transfer valves offering sterility insurance for sterile APIs
ChargePoint AfterCare™ - Dedicated team offering installation and maintenance training and onsite support, as well as spare parts and accessories.
ChargeBag® - Single use bags for contained transfer of powder and small process components
ChargeBottle® - Small scale rigid containers to suit a variety of process requirements.