Bracket, a leading clinical trial technology and specialty services provider, has won the Best Patient-Focused Technological Development award at the Clinical and Research Excellence (CARE) Awards.
The award, which acknowledges 2018's best advancement in improving data collection and the patient experience,recognizes the success of Bracket's ePRO and patient engagement solution in boosting study compliance and completion by making patients feel like partners in their clinical trial.

Commenting on the award, Bracket's President, eCOA and Patient Engagement, Jeff Lee, said: "We are delighted that our solution has been recognized by the CARE Awards' 2018 judging panel. Patients are the lifeblood of clinical trials and we set out with the goal of building a comprehensive ePRO solution that would make them feel like 'partners' in their clinical trial rather than merely a 'data set'.Bracket's mobile ePRO solution goes beyond delivering robust trial instruments—it leads with BYOD capabilities and includes patient engagement features alongside integrations to complementary third-party solutions, such as eConsent, payments and lab courier services to improve the patient experience."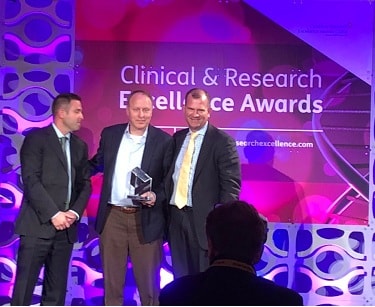 Bracket's ePRO solution works on iPhone and Android operating systems for seamless use on provisioned or personal devices. In a single mobile touch point patients access validated survey instruments as well as everything they need to feel empowered and informed for the duration of the clinical trial, including: personalized reminders (via text-message or push notification), visit schedule information, the ability to confirm or cancel appointments, multimedia reference tools, gamification, direct-from-site communications, and third party study services.

The mobile app makes it easy for patients to keep up with their study commitments and eliminates the need to use multiple, disparate technologies. In a recent clinical study, patients who used Bracket's ePRO and engagement solution were more likely to comply with the study protocol, complete their diaries, and were up to 80% less likely to withdraw from the study.

The CARE Awards acknowledge and applaud the pharmaceutical sector's outstanding performers across all areas of the industry, recognizing both corporate and individual achievements. To see the full list of 2018 CARE Awards winners please visit: https://pharmaintelligence.informa.com/events/awards/care-awards-2018

About Bracket
Bracket, with ten offices and more than 800 employees worldwide, is a clinical trial technology and specialty services provider dedicated to helping bio-pharmaceutical sponsors and contract research organizations increase the power of their clinical research data by leveraging core competencies in Science, Technology, and Service. Bracket eCOA™ is a flexible platform for electronic clinical outcomes assessments. Bracket RTSM™ is a best-in-breed, scalable and configurable clinical IRT solution for the life sciences industry. Bracket Smart Supplies™ is a proven platform for improving a clinical supply chain. Bracket Rater Training and Quality Assurance improve outcomes through customized training and quality assurance programs.

About Informa Pharma Intelligence
Informa Pharma Intelligence powers a full suite of analysis products – Datamonitor Healthcare, Sitetrove, Trialtrove, Pharmaprojects, Medtrack, Biomedtracker, Scrip, Pink Sheet and In Vivo – to deliver the data needed by the pharmaceutical and biomedical industry to make decisions and create real-world opportunities for growth.

With more than 500 analysts keeping their fingers on the pulse of the industry, no key disease, clinical trial, drug approval or R&D project isn't covered through the breadth and depth of data available to customers. For more information visit pharmaintelligence.informa.com.

About Informa PLC
Informa operates at the heart of the Knowledge and Information Economy. It is one of the world's leading business intelligence, academic publishing, knowledge and events businesses. With more than 6,500 employees globally, it has a presence in all major geographies, including North America, South America, Asia, Europe, the Middle East and Africa.