Together with the Bioactives World Forum, the contract manufacturer SternMaid will be organizing an international symposium on the subject of microencapsulation in Hamburg on 17 and 18 May 2018.
Participants may expect a broad and diversified programme with specialist lectures on the technological and economic aspects of different encapsulation methods, interesting examples of applications, tasting of products, and a visit to the SternMaid facility in Wittenburg.

Among others, the symposium is directed towards product developers, R&D experts, chemists, technologists and managers from the food and pharmaceutical industries, and manufacturers of food supplements.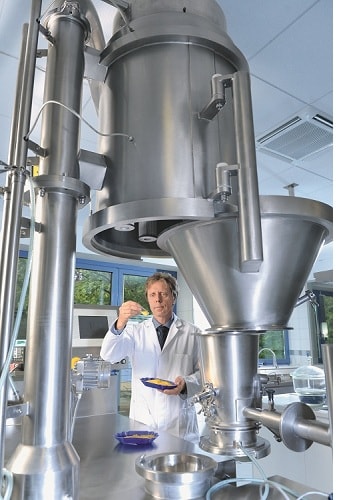 Whether for creating bright colours in sweets and fruity flavours in chewing gum or for integrating valuable vitamins into tablets: microscopic capsules help to work sensitive ingredients into foods, food supplements and pharmaceutical products.

The method offers a multitude of possibilities, but it also poses certain challenges for which the symposium will show approaches to a solution. The topics of the contributions include delayed release and stability of ingredients, enhancement of nutritional properties and the cost efficiency of the process. Among the speakers are well-known scientists and experts from industry from the USA, Switzerland and Germany.

During a tour of the plant, SternMaid will also present its range of products and services and show how hydrocolloids, sugar, salts or minerals, for example, can be encapsulated and processed by means of fluidized bed technology or on the blending lines.

The event will be held at the InterCity-Hotel, Hamburg Dammtor-Messe. Since the number of places is limited, SternMaid would ask you to register early.

You will find more information at: http://www.bioactivesworld.com/hamburg.html

About SternMaid:
SternMaid GmbH & Co. KG with its registered office in Wittenburg (Mecklenburg-West Pomerania), in the Greater Hamburg area, is a member of the owner-managed Stern-Wywiol Gruppe. For over 35 years the group of companies with 12 industry-specific specialist firms in Germany and 15 affiliates abroad has been among the successful enterprises operating internationally in the world of Food and Feed Ingredients. Established in 1996, SternMaid has since become one of Europe's leading contract manufacturers.

With just under 300 employees, the company offers a wide range of services. Besides manufacturing powdered food ingredients, food supplements and pharmaceutical excipients on a contract basis, SternMaid blends and processes special ingredients for baby food, vitamin mixtures, OTC and medicinal products, and also foods for special dietetic purposes.

A total of fifteen different blending lines is available to meet all manner of different requirements. This range of equipment is complemented by a modern fluid bed processor for gentle drying, agglomeration, microencapsulation, instantization and granulation. With warehousing, co-packing, logistics and purchasing, the contract manufacturer offers a full range of services all from one source. Following the successful commissioning of Plant II in 2017, the next steps in expansion have already been initiated.

You will find more information at: www.sternmaid.de/en