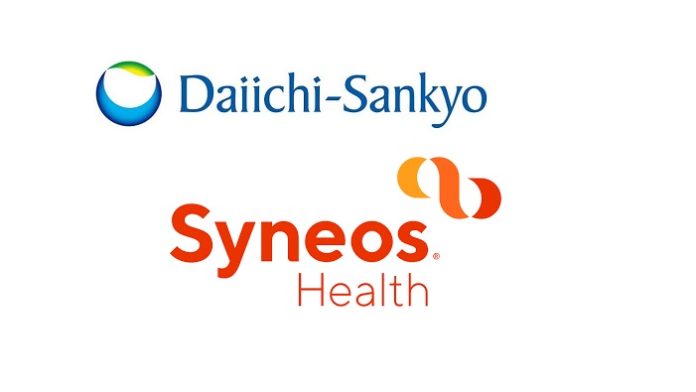 Daiichi Sankyo, Inc. announced that it has entered into a strategic agreement with Syneos Health The companies are coming together to form a coalition to accomplish their shared goal of bringing promising cancer therapies to patients as safely, effectively and efficiently as possible.
Under the agreement, Syneos Health will provide both strategic and operational solutions for three lead Daiichi Sankyo DXd antibody drug conjugates (ADC): DS-1062, U3-1402 and DS-8201. The coalition expands a strong, pre-existing relationship between the two companies, further leveraging Syneos Health's insights-driven Syneos One product development model to de-risk and accelerate development.
The coalition will enable early strategic engagement of Syneos Health teams to inform critical drug development decision making from the start. Cross-functional teams from both companies will share therapeutic expertise and product development insights to shape optimal study designs and create a consistent quality clinical delivery process across a portfolio of studies. Adding to the world-class scientific and technological expertise at Daiichi Sankyo, Syneos Health brings strong clinical site-level relationships and field experts located across the globe who can engage more closely and effectively with investigator teams.
"We quickly recognized that our three flagship ADCs have transformative potential that our in-house structure and current CRO engagements could not deliver as fast as we feel obligated to for patients," said Marielle Cohard Radice, Global Head of Development Operations, Daiichi Sankyo. "The 'one-team and patient-first' philosophy we have built with Syneos Health will enable evaluation of our development candidates in more therapeutic settings, more swiftly and more effectively."
The combined end-to-end knowledge from the Daiichi Sankyo and Syneos Health teams will provide a robust understanding of how patients are cared for, which workflows exist, and how cutting-edge clinical investigation can best be embedded in the clinic setting. Shared insights will also enable optimized site selection and engagement to best address patient needs. By leveraging this coalition approach, Daiichi Sankyo expects deeper synergies, particularly at the clinical site level, across projects with common indications and patient populations.
"High unmet patient need and rapid scientific discovery in the oncology space are driving the need for a faster and more predictable approach to clinical development," said Paul Colvin, President, Syneos Health Clinical Solutions. "We're pleased to collaborate with an innovative company like Daiichi Sankyo, using our unique outsourced product development model to improve clinical trial performance for their advanced oncology portfolio."
About Daiichi Sankyo
Daiichi Sankyo Group is dedicated to the creation and supply of innovative pharmaceutical therapies to improve standards of care and address diversified, unmet medical needs of people globally by leveraging our world-class science and technology. With more than 100 years of scientific expertise and a presence in more than 20 countries, Daiichi Sankyo and its 15,000 employees around the world draw upon a rich legacy of innovation and a robust pipeline of promising new medicines to help people. In addition to a strong portfolio of medicines for cardiovascular diseases, under the Group's 2025 Vision to become a "Global Pharma Innovator with Competitive Advantage in Oncology," Daiichi Sankyo is primarily focused on providing novel therapies in oncology, as well as other research areas centered around rare diseases and immune disorders. For more information, please visit: www.daiichisankyo.com. Daiichi Sankyo, Inc., headquartered in Basking Ridge, New Jersey, is a member of the Daiichi Sankyo Group.
About Syneos Health
Syneos Health is the only fully integrated biopharmaceutical solutions organization. The Company, including a Contract Research Organization (CRO) and Contract Commercial Organization (CCO), is purpose-built to accelerate customer performance to address modern market realities. We bring together approximately 24,000 clinical and commercial minds with the ability to support customers in more than 110 countries. Together we share insights, use the latest technologies and apply advanced business practices to speed our customers' delivery of important therapies to patients. To learn more about how we are shortening the distance from lab to life®, visit syneoshealth.com or subscribe to our podcast.