DuPont announced it has completed construction on a new, state-of-the art probiotics fermentation unit at its Rochester, New York, facility.
The unit, now largest in the world, is part of a multiphase nearly $100 million investment to expand probiotics capacity and enhance the company's leadership in delivering high-quality, clinically documented probiotics to dietary supplement and food and beverage manufacturers.

The fermentation unit is fully operational and will serve as a crucial resource in propagating bacteria and enabling high potency, stability and efficacy of probiotics. Quality is extremely important in probiotic production, and the fermentation unit will also optimize DuPont's production capability, enabling the company to increase the pace of delivery to customers and the market.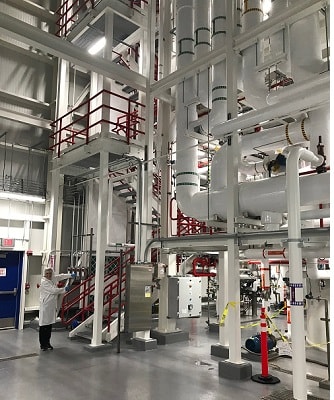 "Completing the construction on our new fermentation unit marks a major milestone in delivering essential innovations for our customers and achieving our ambitious probiotics growth plans," said Matthias Heinzel, President, DuPont Nutrition & Health. "Today, we are witnessing a significant rise in demand for probiotics as consumers make health and wellness a daily priority. We are proud to continue to deliver on our commitment to invest in this fast-growing segment, which can also enable sustainable growth for our customers around the world."

In addition to today's announcement, DuPont also completed a probiotics capacity expansion at its Madison, Wisconsin, facility in late 2018. The investment was used to upgrade equipment and increase the pace of new product development and significantly improved delivery times on pilot material for clinical trials and customer evaluations.

DuPont is a world leader in probiotics, offering the widest range of clinically documented strains with its DuPont™ Danisco® portfolio to support digestive health, immune health, women's health and more. Specifically, its HOWARU® products were recognized with a series of outstanding innovation awards in 2018 from various industry organizations. The company is also leveraging its probiotics platform for the development of human milk oligosaccharides (HMOs) as part of a larger microbiome investment strategy.  

For information about DuPont Nutrition & Health, visit http://www.dupontnutritionandhealth.com/

About DuPont Nutrition & Health
DuPont Nutrition & Health, a DowDuPont Specialty Products Division business, combines in-depth knowledge of food and nutrition with current research and expert science to deliver unmatched value to the food, beverage, pharmaceutical and dietary supplement industries. We are innovative solvers, drawing on deep consumer insights and a broad product portfolio to help our customers turn challenges into high-value business opportunities. More information is available at www.dupontnutritionandhealth.com
About DowDuPont Specialty Products Division
DowDuPont Specialty Products, a division of DowDuPont , is a global innovation leader with technology-based materials, ingredients and solutions that help transform industries and everyday life. Our employees apply diverse science and expertise to help customers advance their best ideas and deliver essential innovations in key markets including electronics, transportation, building and construction, health and wellness, food and worker safety. DowDuPont intends to separate the Specialty Products Division, which will be called DuPont, into an independent, publicly traded company. More information can be found at www.dow-dupont.com