RayDyLyo® a breakthrough innovation with multiples benefits
RayDyLyo® is an all-plastic capping solution designed to work with all ISO stopper configurations (serum and lyo).
Customers select and validate the stoppers which are assembled automatically by ARaymondlife. Pre-assembly of the stopper in the RayDyLyo® cap upstream simplifies the vial capping process to one-step in the isolator and eliminates the constraints associated with the crimping of aluminum caps.

A new filling line adapted to work with the RayDyLyo® cap is being presented at CPhI Madrid
In 2017, the Spanish company Dara Pharmaceutical Packaging worked closely with ARaymondlife to adapt its SX-310 filling line to work with RayDyLyo® closures. Equipped with a single vibratory bowl, the SX-310-RDL line has a reduced footprint compare to conventional lines, whilst maintaining quality standards.Convinced by this first success, DARA and ARaymondlife decided to modify a new line for processing RayDyLyo® plastic push fit caps.

The NFL line is a line dedicated to the filling and capping of ready to use (RTU) nested vials, cartridges and syringes. This very compact machine requires no washing unit, no sterilization tunnel and no crimping station.

"A year ago, we worked with Dara to modify the SX-310 line for processing RayDyLyo® caps. Today, we are pleased to have achieved this same goal with the NFL line, so proving the ease of implementation of our RayDyLyo® solution for pharmaceutical companies," says Pascal Sircoulomb, Business Development Director of ARaymondlife.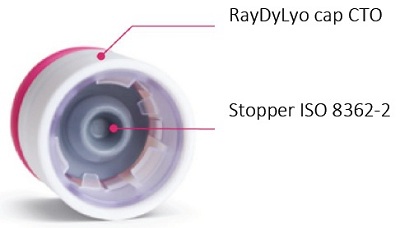 With a filling and closing capacity of 6000 vials per hour, the NFL line offers a leading technical and economic solution for pharmaceutical companies and biotech companies looking for the flexibility to manufacture from small batches up to industrial series.

The NFL line will be previewed at CPhI Madrid, from 9 to 11 October 2018, on the ARaymondlife booth 4C113.

"Modifying our equipment to work with RayDyLyo® plastic caps was quick and easy, thanks to the close collaboration with ARaymondlife" says Joan Mele, Commercial Director at Dara Pharmaceutical Packaging. "Today we are able to offer a compact and multi format machine that makes it possible to close vials in one step, without de-nesting, in an aseptic area thanks to RayDyLyo®."

"ARaymond is a large quality-orientated company that is always looking for long-term results, which is very important for making the investments needed to achieve our goals. We share a common philosophy with them in terms of innovation and added value "says David Ral, General Manager of Dara.
The goal of DARA and ARaymondlife is to set up around 20 NFL filling lines over the next 3 years.

Two machines are already functional and available immediately.

"We are confident that facilitating the implementation of RayDyLyo® on existing machines in the market, coupled with its many other economic and quality advantages will make our plastic capping solution, the new standard for vial capping" concludes Nicolas Thivant, President of ARaymondlife.

ARaymond
Headquarters: 113 Cours Berriat, 38000 Grenoble, France
Turnover 2017: 1,2 billion d'euros
7 000 employees in 25 countries on 4 continents
1 600 active patents – 700 new products per annum
25 000 standard products

About the ARaymond Network
The ARaymond Network is one of the global leaders in fastening and assembly solutions for the automotive industry and is developing its know-how in other sectors: Truck, Industrial, Energies, Agriculture and Life. Founded in Grenoble (Isère, France) in 1865, the ARaymond Network has always been a family business. The current CEO, Antoine Raymond, is the great-great-grandson of the founder Albert-Pierre Raymond. www.araymond.comand www.araymond-automotive.com