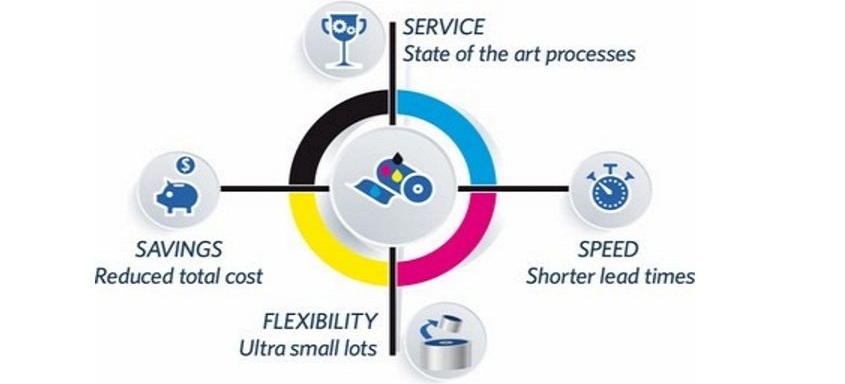 The initial investment in two state-of-the-art printing presses will primarily serve the healthcare markets in the UK, Switzerland and Germany.
A UV Flexo press will be installed at Amcor Flexibles Kreuzlingen, Switzerland, and a digital press at Amcor Flexibles Cramlington, UK, both of which are expected to be in operation in 2017, building on a prior investment in a new digital press in Alzira, Spain.
Luca Zerbini, Vice President, Marketing, R&D and Sustainability, in Amcor's Flexibles division in Europe, said the investments will do more than simply expand capacity.
"We are determined to remain the top provider of printing services to the fast-changing healthcare market" said Mr. Zerbini. "Broadening our technology and high-value services will make us even better able to partner with our customers in areas most important to them: flexibility, speed and total cost."
The presses complement and enhance the technical and customer service expertise at the two sites. The move to digital printing is a critical enabler to meet the increasing speed of market change as well as the growing requirements towards personalised medicines.
"We are also using this opportunity to rethink the traditional supply model to deliver unmatched flexibility and total cost advantages for our customers" stated Paul Vega, Vice President of the Pharma and Medical EMEA Business Unit.
These new investments underline Amcor's long term commitment to develop their European pharmaceutical printing capabilities and to continue anticipating and responding to customer needs. Further investments are planned in the future.
https://www.linkedin.com/company/amcor
https://twitter.com/amcorpackaging
https://www.youtube.com/user/AmcorPackaging
https://www.facebook.com/amcorlimited
About Amcor:
Amcor Limited (http://www.amcor.com) is a global leader in responsible packaging solutions, focusing on a broad range of flexible and rigid plastic packaging that enhances the products consumers use in everyday life, with 95 percent of its sales into the food, beverage, healthcare and tobacco industries. The company employs more than 31,000 people worldwide, operating in 40-plus countries and across more than 190 sites. For more information, visit http://www.amcor.com.
https://www.amcor.com/about_us/media_centre/news/Amcor-Invests-for-Customer-Speed-and-Flexibility
For further information, please contact:
Colin Reed
Marketing and Strategy Director, Global Pharma and Medical EMEA
Tel: +49-172-623-5863
Email: colin.reed@amcor.com
For press information, please contact:
Florence Rocq 
Marketing Communications Manager, Global Pharma and Medical EMEA
Tel: +33-1-5700-3619
Email: florence.rocq@amcor.com