Frost & Sullivan has presented INTEGRA Biosciences with the '2018 Global Laboratory Pipetting Company of the Year' award, recognizing its products as innovative, revolutionary and able to fulfil the needs of customers.
Frost & Sullivan's transformational health research group conducted extensive research using key benchmarking criteria across two main areas – visionary impact and performance, and customer impact – to compare companies in the industry, and found that INTEGRA surpassed the competition.

INTEGRA offers an extensive range of manual and automated solutions, providing customers with flexibility and small-scale automation that can provide high throughput at low cost. From the innovative number lock dials of the EVOLVE manual pipettes to the automated tip spacing adjustment of the VOYAGER electronic multichannels, the company's products are designed to improve the efficiency and reproducibility of everyday pipetting tasks while minimizing user strain.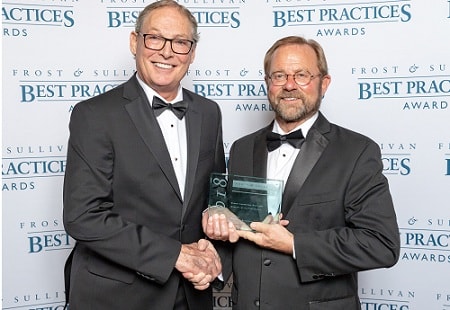 The launch of the VIAFLO 96/384 revolutionized the market, enabling laboratories to benefit from high throughput pipetting – only previously possible with fully automated liquid handling robots – at a fraction of the cost. The ASSIST pipetting robots shook up the market further, simplifying the workflow of multichannel pipetting while guaranteeing error-free processing and dramatically improving reproducibility. And the company's entire product range benefits from its unique GripTip system, which provides perfect alignment between pipette and tip to eliminate loose and leaking tips.

Juerg Bass, Marketing Communications Director at INTEGRA, commented: "We are delighted to have met the stringent criteria for this prestigious award. We are proud of our achievements and continue to drive the development of new solutions for customers in a diverse range of applications."

Visit the INTEGRA biosciences website to discover what INTEGRA can offer you.

About INTEGRA Biosciences
INTEGRA Biosciences (https://www.integra-biosciences.com) is a leading provider of high-quality laboratory tools for liquid handling and media preparation.  The company is committed to creating innovative solutions which fulfil the needs of its customers in research, diagnostics and quality control within the life science markets and medical industry. Today, INTEGRA innovative laboratory products are widely used all around the world. More than ninety distribution partners form a worldwide sales network providing responsive and competent services to customers. These distribution partners are supported by a highly motivated and experienced team of specialists at the company headquarters in Zizers, Switzerland and Hudson, NH, USA.  INTEGRA is an ISO 9001 certified company.