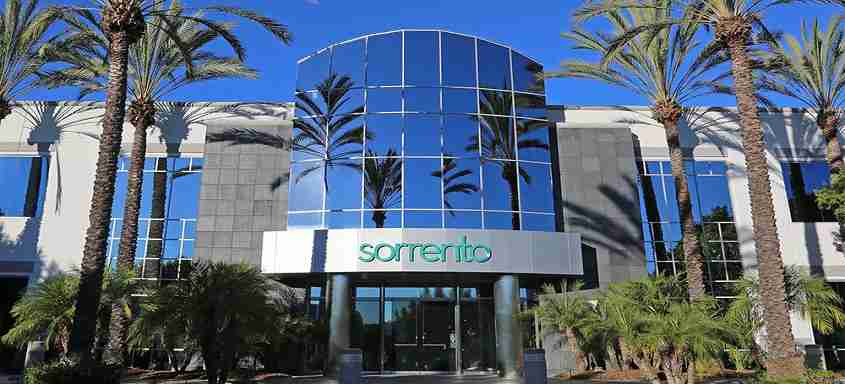 Sorrento Therapeutics, Inc. Virttu, based in Glasgow, Scotland, is a privately-held biopharmaceutical company focused on the development of oncolytic virus therapy for treatment of cancer.
Virttu's lead product candidate Seprehvir® (HSV1716) is a Herpes Simplex Virus (HSV)-based oncolytic virus that selectively kills cancer cells and eliciting an anti-tumor immune response in the patient.  The oncolytic virus technologies of Virttu have potential for broad therapeutic application across various cancer indications as well as being synergistic with the immunotherapy portfolios of TNK and Sorrento.

Seprehvir has completed Phase I studies in Europe for treatment of solid tumors, including glioma as well as head and neck squamous cell carcinoma (HNSCC), in adult cancer patients. In addition, it is currently being evaluated in a Phase I/IIa study in the UK for treatment of adult patients with mesothelioma using regional (intrapleural) delivery of Seprehvir and in a Phase I study in the US as therapy for non-CNS malignancies in pediatric patients using intravenous (i.v.) infusion of Seprehvir.
The acquisition is contingent upon completion of each parties' due diligence and other customary closing conditions. In consideration for the acquisition, Virttu equity holders will receive $5 million in stock of Sorrento at closing (expected in the first quarter of 2017) and an additional $20 million in stock of TNK upon its next financing within 12 months after the closing.
"With the acquisition of Virttu, we will add a clinical-stage oncolytic virus therapy to our armamentarium of immunotherapies. The Virttu team has done a tremendous job of advancing Seprehvir into clinical trials for treatment of adult cancer and pediatric malignancies. In addition to the conventional intratumoral injection route that the marketed HSV-based oncolytic virus therapy utilizes, the Seprehvir can be administered via i.v. infusion for treatment of both local and metastatic cancers due to absence of inherent neurotoxicity in contrast to other HSV-based oncolytic viruses." said Dr. Henry Ji, President and CEO of Sorrento.  Dr. Ji added, "We look forward to continuing the clinical development of Seprehvir in the US and Europe as monotherapy but also initiate combination trials globally with TNK's cellular therapies as well as Sorrento's immuno-oncology mAb products."
"We are excited to join the Sorrento/TNK team and together accelerate the development of Seprehvir. Sorrento's antibody-centric therapies and TNK's CAR-T and CAR.NK programs are a perfect match with our oncolytic virus as our preclinical research has shown significant synergy between Seprehvir and CAR-T therapies as well as with immune checkpoint antibodies. Furthermore, our Seprehvec platform technology will allow for the development of next generation oncolytic virus programs, such as expression of Sorrento's immune checkpoint antibodies at the tumor site or pro-inflammatory cytokines for enhanced tumor killing and immune activation, by incorporating these genes into the Seprehvir genome," stated Dr. Joe Conner, Chief Scientific Officer of Virttu.  "The field of oncolytic virus therapies is rapidly gaining attraction as evident by recent marketing approvals and transactions, so we believe that with Virttu becoming part of TNK, we will be well positioned to become a leader in this exciting immunotherapy space."
About Sorrento Therapeutics, Inc.
Sorrento is an antibody-centric, clinical stage biopharmaceutical company developing new treatments for cancer, pain management, inflammation and autoimmune diseases. Sorrento's lead product candidates are late-stage biosimilar and biobetter antibodies, as well as clinical CAR-T therapies targeting solid tumors.
About TNK Therapeutics, Inc
TNK Therapeutics is a subsidiary of Sorrento.  TNK is focused on the development and commercialization of cellular therapies to address unmet medical needs in oncology. TNK technologies harness the adaptive and innate immune system by reprogramming immune cells to recognize and efficiently kill cancer cells. For these cellular immunotherapies, TNK's utilizes immune cells, including T cells and Natural Killer, or "NK", cells.
About Virttu Biologics Limited
Virttu's lead oncolytic product Seprehvir® has been administered to 100 patients ranging from 8 to 84 years with many different types of cancer including brain, melanoma, head and neck cancer, sarcomas, neuroblastoma and mesothelioma (a devastating lung cancer associated with asbestos exposure).  In these patients, Seprehvir can be administered by the route most suitable for their disease which includes systemic administration by intravenous infusion, direct intratumoral injection, and loco-regional infusion.  Seprehvir, is the first product from an active oncolytic immunotherapy platform technology (Seprehvec). Virttu's in-house expertise has led to the development of techniques to engineer rapidly further therapeutic modalities into the Seprehvir backbone and Virttu now has a promising pipeline of next-generation clinical candidates.