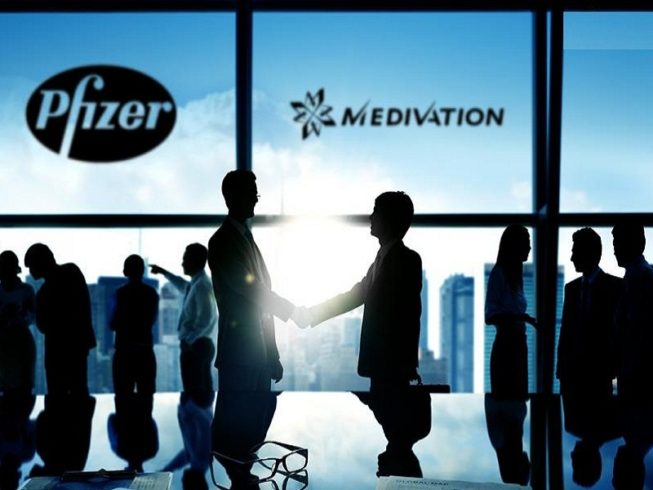 Pfizer Inc announced the successful completion of its acquisition of Medivation, Inc . As of the tender offer expiration, 115,574,041 shares of Medivation common stock were validly tendered, representing approximately 69.1% of the shares outstanding and have been accepted for payment under the terms of the tender offer for $81.50 per share in cash, without interest, subject to any required withholding of taxes.
In addition, notices of guaranteed delivery have been delivered for 17,659,861 shares of Medivation common stock, representing approximately 10.6% of the shares outstanding. Following its acceptance of the tendered shares, Pfizer completed its acquisition of Medivation through a second-step merger. Pfizer and its wholly-owned subsidiary accepted for payment and will promptly pay for all shares validly tendered and not validly withdrawn.

"Pfizer and Medivation are now one unified team combining research and resources to combat cancer. This acquisition represents a rare opportunity to expand our business offering with an attractive pipeline and with XTANDI, an important medicine for men with prostate cancer. We welcome our new Medivation colleagues to the team and look forward to continuing the successful partnership with Astellas for XTANDI," said Albert Bourla, group president, Pfizer Innovative Health. "Given the breadth of Pfizer's existing oncology portfolio and emerging immuno-oncology pipeline, Medivation's assets will potentially benefit from many novel and productive combinations. Together, we are well positioned to becoming a leading oncology company, speeding cures and making accessible breakthrough medicines to patients – our number one priority."
Pfizer continues to expect the transaction to be immediately accretive to Pfizer's Adjusted Diluted EPS upon closing, approximately $0.05 accretive in the first full year after close with additional accretion and growth anticipated thereafter.
About Pfizer:
At Pfizer, we apply science and our global resources to bring therapies to people that extend and significantly improve their lives. We strive to set the standard for quality, safety and value in the discovery, development and manufacture of health care products. Our global portfolio includes medicines and vaccines as well as many of the world's best-known consumer health care products. Every day, Pfizer colleagues work across developed and emerging markets to advance wellness, prevention, treatments and cures that challenge the most feared diseases of our time. Consistent with our responsibility as one of the world's premier innovative biopharmaceutical companies, we collaborate with health care providers, governments and local communities to support and expand access to reliable, affordable health care around the world. For more than 150 years, Pfizer has worked to make a difference for all who rely on us. For more information, please visit us at www.pfizer.com.
Contact: 
Pfizer Inc.Media:
Sally Beatty, 212-733-6566
or
Investor:
Ryan Crowe, 212-733-8160