Environmental concerns in China leading to closure of factories that make the basic raw materials and key starting materials required for the API industry to be dearer?
There has been a consistent increase in KSM (Key starting material) prices for the last few months across globe.KSM are the building block for the API (active pharma ingredient). When there is an increase in the API procurement cost, the finished drug cost i.e therapy, product, dosage may also increase. With increase in raw materials, products like anti-ulcers, PPI or CVS, CNS seems to be costlier in near future as per experts.

To elaborate more on the same we would be happy to introduce you to Mr. Saurabh Gurnurkar- Executive Director, Uquifa who is available to speak on the following talk points.

Talk points:
Is it because there have been environment concerns in China led to closure of API supply units resulting in supply issues that has an impact on product pricing?
Has CII already emphasized the risks of over-dependence on China for critical raw material and commonly used drugs  ?
Is it because of crude oil price trends that have impacted the raw material prices to rise?
Or is it because of Rupee depreciation against the dollar made the raw material to get dearer apart from demand and supply issue?
1. What are the main environment issues in China that led to closure of API supply units?
From what we understand there is largely a need to curb pollution (air, soil, water) and improve the overall environment in certain zones that has been the driver of actions in China.

2. What are the real supply issues that led to impact on product pricing?
Historically China has been the source of manufacture for many basic chemicals, intermediates and APIs- they have over period of time gained high levels of market shares given cost competitiveness. This resulted in manufacturing of categories of intermediates, APIs moving away from EU and other parts of the world largely to Asia dominated by China. As a result these companies in other parts of the world started moving to other products areas or possibly curtailed operations—leading to a further concentration in global offtake from China and in some case India of the intermediates/APIs. Now, when China started to take measures to curb pollution and this began to impact certain zones/manufacturers—this had a domino effect given that probably these manufacturers were the ones with max volume supplying to market and their loss of production impacted price and supply across the value chain of pharma and chemical industry.   

3. What are the main reasons for dependence on China for critical raw materials in commonly used drugs?
From Uquifa, we have been buying historically nearly 60% of our key starting materials (KSM) from China. Given the challenges emerging from China we have increasingly begun to build alternative sources in India and/or make the intermediate captive wherever the economics works out. Qualifying new sources takes time ( regulatory, quality requirements) especially since 100% of our business is focused on the regulated pharma markets, however we are committed to work closely with our supplier base (existing and new) to ensure timely delivery of our product to our customer base and eventually the patient population.   
However, China has certain inherent strengths in chemistry technologies and infrastructure capabilities which they really leveraged to gain higher market shares, which made the customer base dependent on these sources of supply.

4. Is there a relationship of crude oil prices to raw materials?
Yes – solvent prices are well linked to crude oil trends wherever the basic constituent is a crude derivative. So on increase in crude oil prices in such cases also places pressure on solvent and indirectly API cost of manufacture.  

5. Is the rise in prices more to do with the fall of the value of the Rupee against the Dollar?
The rise in prices don't exactly effect Uquifa as we have manufacturing in EU and N America- majority of our invoicing is in USD and Euro.

However given our RM suppliers are out of India and China to large extent; wherever possible we try to negotiate with supplier base say in India if there is a local currency depreciation.  

6. Is there a relationship in the demand and supply to the value of the Rupee?
We may not be able to comment on this

7. What are the important developments in Contract Pharma talks with leaders at several CDMOs about current trends in outsourcing and the importance of investment in CDMO partnerships in today's pharma landscape?
We believe it is a solid platform to build connectivity across stakeholders in the industry – from API CDMO to FD CDMO and eventually the Big Pharma cos which are driving innovation and making the investments in new drug development.  Clearly, the following trends we believe will continue to remain strongly relevant in the CDMO market, in no particular order.

Quality Environment and track record,
Regulatory Support
Supply reliability
Innovation
Cost
Service levels for customer  

8. In contract Pharma how have outsourcing relationships evolved in the last 10 years?
They have constantly added value and evolved with times, we see the platform as relevant and great place to move our business forward. We hope to be a part of this and leverage the platform more effectively in the coming years!
About Mr. Saurabh Gurnurkar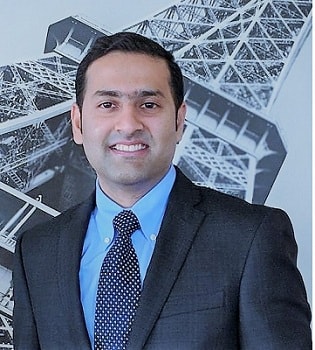 Mr. Saurabh Gurnurkar is the Executive Director of UQUIFA S.A (API business of Vivimed Labs and 70% of Vivimed sales, a pharmaceuticals and specialty chemicals company headquartered in Hyderabad), a trusted franchise in the manufacture of API´s (Active Pharmaceutical Ingredients) for the innovator and generic pharmaceutical sectors which has been in business for more than 80 years. Headquartered in Barcelona, Spain Uquifa has recently raised capital from OrbiMed, which is a leading healthcare investment firm, with over $14 billion in assets under management.

To expand faster into the CDMO sector (40% of Uquifa sales) where it already has an important presence in the geographies like USA, Europe and Japan, Uquifa has signed definitive agreement to facilitate the acquisition of SONEAS, a Budapest (Hungary) headquartered CDMO Company.

Saurabh has received his BE in Mechanical Engineering from RVCE, Bangalore in 2002 and, an MBA in Finance and International Business from NMIMS, Mumbai in 2005. He has also, been nominated by his employers to programs designed for potential business leaders at the IIM, Bangalore, London Business School and INSEAD, Paris.   

He has been an active participant on the CII (Confederation of Indian Industry) and FICCI (Federation of Indian Chambers of Commerce & Industry) forums on sectors like pharmaceuticals, technology, and financial services. He has a keen interest in Indian history, geopolitics & has made contributions to popular publications on the same in addition to emerging market investment themes.

Prior to joining Vivimed and eventually UQUIFA, Saurabh had 8 years of experience across investment management and enjoyed his successful stints with leading domestic and international firms in the financial services industry. He has been associated with Prudential Financial's asset management business and, has been a part of the founding team for the India venture from the period 2010-2013. Set up in 2008, the India business is sponsored and owned by Prudential Financial (PFI) the US headquartered insurance and asset management player which manages close to $900bn of assets and, is ranked the 6th largest institutional asset manager, globally.

Saurabh independently handled investments in sectors like technology, financial services, healthcare and consumer discretionary sectors in addition to collaborating with the firm's Chief Investment Officer on portfolio construction and, the investment process. The diversified equity funds managed by Saurabh's team enjoyed a top quartile ranking in terms of absolute performance.

Prior to this assignment, he has been associated with leading Indian and global organizations such as the Kotak Mahindra group (2005-10), Credit Suisse and Toyota Kirloskar Motors. At different points in time Saurabh has also had the opportunity to serve internships for organizations in the public policy domain like the Reserve Bank of India and the Planning Commission of India.  

He was earlier associated with the equities business of the Kotak group, one of India's leading banking and financial services groups. He joined the group in 2005 as an associate in the equity research function and was one of the youngest to be elevated as a Deputy Vice President of the group's investment business by 2010. A keenness to learn, willingness to take the initiative and, an open mind are personal attributes which Saurabh believes have been an advantage.

Hobbies: Saurabh enjoys swimming, running and, his first love- investments. Born in Hyderabad and having completed schooling in New Delhi, the UK and Hyderabad, he lives now in Barcelona, with his wife Radhika, and son, Advay.
About Uquifa.
Uquifa is a company established in 1936 in Spain is a pioneer in manufacturing of APIin the global CDMO and Generic market.80 years of rich experience, quality manufacturing platforms,excellent track record of service and reliability, technology, high ethical standards makeUquifa stand out as one of the emerging companies in global active ingredient industry
Vivimed Labs, a pharmaceuticals and specialty chemicals company headquartered in Hyderabad, India, acquired Uquifa in 2011 for a consideration of $ 55 million in a move to bring in strategic growth into its product mix and expand the footprint in Europe and the Americas.The company has grown to $110mn now and expects aggressive growth in coming 2-3 years.It has recently raised capital from OrbiMed, which is a leading healthcare investment firm, with over $14 billion in assets under management.
Uquifahas three US FDA inspected&approved manufacturing sites across Spain and Mexico to cater to the Generic and CDMO API segments of the global pharmaceutical market. It has customer relationships with leading innovator and generic formulation companies and, has been a trusted franchise across regulated markets, for eight decades of its existence. Gilead Lifesciences, GSK, Mylan, Esteve Quimica, Apotex, Medinsa, and Actavis are some of the key customers of Uquifa. It has a global customer base with clients in over 70 countries worldwide. In terms of IP, the Company has more than 150 active DMF´s filed and 20 CEP's approved. R&D and innovation remains at the core of the Company's strategy. It continues to make balanced investment in personnel, infrastructure, plants and processes to stay ahead of the technological curve.
To expand faster into the CDMO sector (40% of Uquifa sales) where it already has an important presence in the geographies like USA, Europe and Japan, Uquifa has signed definitive agreement to facilitate the acquisition of SONEAS, a Budapest (Hungary) headquartered CDMO Company.