MedPharm's Chief Scientific Officer and Co-Founder, Professor Marc Brown and University of Reading's Professor Adrian Williams have co-authored the new book: 'The Art and Science of Dermal Formulation Development".
It is the latest addition to 'Drugs and the Pharmaceutical Sciences', a series of textbooks and monographs published by CRC Press.

The Art and Science of Dermal Formulation development provides a comprehensive guide to all aspects of the subject, from the structure of skin and formulation development and performance testing to the chemical, physical and technological modulation of delivery and manufacturing processes.

Professor Brown said: "The book covers early stage preformulation and formulation development right through to product manufacture. Much of the information is based on the systems, processes and expertise we have built up at MedPharm over the years and which have successfully led to the commercial launch of over 50 products by our clients.

The global pharmaceutical dermatology market was valued at $52billion in 2018 and has been predicted to double over the next 10 years. Patients and consumers of over the counter (OTC) products globally are demanding higher standard of treatment from products  which are easy to use and which help compliance.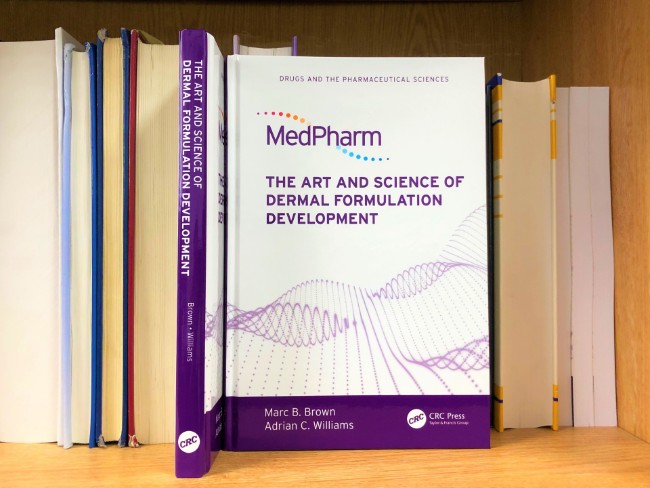 Prof. Brown continued: "The demand within the pharmaceutical industry for these specialised and complex development services continues to grow as more becomes known about the important biochemical process occurring in the skin. This shift within the industry has been reflected in the expanding demand for MedPharm's services."

Prior to co-founding MedPharm in 1999 and throughout his time at the company, Professor Brown has held full, part-time or visiting academic positions at several UK universities. Both Professors have co-authored over 300 research and technical publications and supervised over 100 graduate students in the field.

Dr Jon Lenn, MedPharm CTO added "The book provides an in-depth and coherent introduction to the discipline of topical and transdermal product development for the scientific community.

He continued "We are very pleased to be able to promote the science behind what we do. Innovating and ensuring we continue to develop our scientific expertise has been crucial and will remain fundamental to MedPharm's future growth and support for its customers."

For more information on MedPharm and its services, please visit: www.medpharm.com

About MedPharm
MedPharm Ltd. is a leading, global provider of contract topical and transdermal product design and formulation development services. MedPharm are experts at reducing risk and accelerating development times for generic and proprietary pharmaceutical customers through the use of proprietary, industry-leading performance testing models. Well-established as a global leader in dermatology, nail, mucosal membrane, and transdermal product development, MedPharm also offers innovative solutions for ophthalmic and airway preparations. These solutions are recognised for their scientific rigor by regulators and investors. MedPharm has fully established R&D centres in the US and UK and GMP clinical manufacturing at its global headquarters facility in Guildford, UK. For more information visit our website www.medpharm.com