Wieland Thermal Solutions at the ACHEMA 2018, hall 6.1, booth C4.Ulm, May 23rd - From 11th to 15th June the Achema, the World Forum and Leading Show for the Process Industries, will take place in Frankfurt.
At booth C4 in hall 6.1 Wieland Thermal Solutions will be presenting current solutions for system efficiency increase in the oil, gas and petrochemical industries as well as in power plant engineering.

GEWA-PB tubes have proved successful in ethylene and liquefied natural gas production, enabling a compact design of heat exchangers. The surface structure of the tube enhances the effect of nucleate boiling, thus intensifying the evaporation process.

For the different requirements regarding thermal conductivity, mechanical properties and corrosion resistance in the oil and gas processing industries, Wieland Thermal Solutions will also be presenting at the Achema its portfolio of low-finned tubes in a wide range of materials. GEWA-K, GEWA-KS as well as Trufin S/T and Turbo-Chil tubes are manufactured in the materials carbon steel, stainless steel and titanium. They are mainly used in coolers, preheaters, condensers and evaporators to achieve savings in the overall design, for example regarding fill levels, piping, racks and foundations.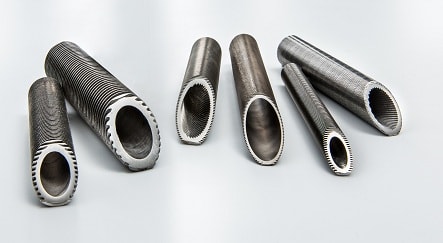 Factsheet Wieland Group
With sales of approx. 500 thousand tons, the Wieland Group is the world's leading supplier of semifinished products made of copper and copper alloys. For the production of strip, sheets, bars, rods, wire, tubes and sections, mainly recycling materials supplemented by virgin metals are used in the company-owned foundries. This results in semi-finished products of the highest quality for a wide variety of customer applications, e. g. in the automotive, electronics and refrigeration/air-conditioning
sectors, as well as for mechanical engineering. The highly diversified customer portfolio is backed by a global service and sales network with an extensive portfolio of value-added services. 15 production sites spread over three continents ensure a high level of reliable and on-time deliveries with maximum flexibility and short supply chains.

The Wieland Group was founded 1820 in Ulm, Germany. The superior level of technical expertise in copper and copper alloys as well as the strong customer orientation enabled Wieland to evolve into a global group of companies in the last 200 years. The core business of semi-finished products is continually being expanded to include new business segments. Customer centricity, entrepreneurship of all of our 7,000 employees around the world as well as strong social and environmental awareness
secure the Wieland Group's long-term future.

The Wieland Group is family-owned, with short decision-making processes and a focus on long-term sustainability. The strategic orientation of Wieland supports the international growth of its customers and thus fulfills the promise "Empowering Success".

As part of the Wieland Group Wieland Thermal Solutions develops and manufactures high-performance tubes and heat exchangers for optimum thermal output using minimal material and energy. Applications for these products are found in the air conditioning, refrigeration and heating sectors as well as in process engineering and mechanical engineering.Further information at www.wieland.com

At a glance:
Founded: 1820, Ulm, Germany
Turnover: appr. 500 kt
Turnover: appr. 3 bn €
Employees: appr. 7,000
All data fiscal year 2016/17

Headquarter:
Wieland Group
Graf-Arco-Straße 36
89079 Ulm
Germany