Data analysis and clinical trial software specialist, Exploristics, has announced a £1m government innovation loan from Innovate UK and the appointment of Chris Molloy as its non-executive chairman following a period of significant growth.
The company has seen yearly turnover reach a new milestone of £1m thanks to the success of its groundbreaking cloud-based data analytics platform for clinical trial design, KERUS Cloud.

Providing a virtual environment for optimising clinical study design and data analysis, KERUS Cloud is a unique simulation software tool supported by the processing power of cloud computing that removes barriers to accessing cutting-edge clinical trial planning.

It is currently the only software available that can simulate trials with multiple correlated outcomes allowing it to untangle the complex relationships between the many biological factors that can influence a study's outcome.

The KERUS Cloud platform's potential to transform the speed and efficiency of bringing new medicines to market has been recognised by government bodies and Exploristics has recently been granted a £1m Innovate UK loan to develop the platform's capabilities further by integrating it into an intelligent software ecosystem.

The KERUS Cloud Ecosystem will enable access to diverse clinical data sources, creating an unparalleled knowledge base for selected therapeutic areas and development programs. This will inform and generate the most accurate study simulations available to date, supporting the complex trial planning needed in the development of new therapeutic interventions.

At this pivotal time for the company, Chris Molloy's appointment will bring extensive knowledge of the life sciences sector to the table as well as nearly 30 years of international executive and board experience. He is also currently the CEO of Medicines Discovery Catapult.

As the new non-executive chairman at Exploristics, Chris' role will be to oversee its continued growth from a small company providing specialist statistical consultancy for the life science industry to a world leader in innovative analytics software for clinical R&D and in silico clinical trial modelling, simulation and design.

Chris said: "It's an exciting time to be joining Exploristics as there is real need for optimised, data-driven clinical trial design, particularly as biopharmaceutical companies face the challenges presented by emerging research areas such as precision medicine.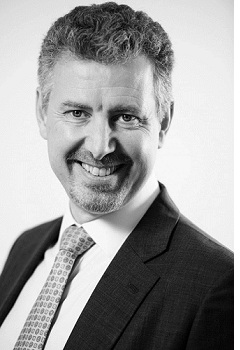 "KERUS Cloud really addresses this need and I believe it will have a truly transformative effect on the industry. I look forward to working with the team to achieve this and drive forward the company's growth."

Dr Aiden Flynn, CEO of Exploristics, who founded the business in 2009, said: "It's a pleasure to welcome Chris to the team at such a key moment for the business and his leadership experience and industry knowledge will be central to supporting our growth strategy.

"Our next generation trial design software seeks to improve the quality of global clinical research and ultimately ensure that patients benefit from new drug therapies as quickly and efficiently as possible.

"This latest funding brings us another step closer to achieving that goal and help to revolutionise clinical trials across the globe." Over the coming months, Exploristics will be attending several events to promote KERUS Cloud including BIO Europe Spring in Vienna and the CMO Summit in Boston.

For more information on Exploristics visit  https://exploristics.com/

About Exploristics
Exploristics specialises in developing and applying innovative analytics solutions that let us – and our clients – derive more information from data collected in life sciences research, clinical trials and electronic health records. We have considerable experience of drug discovery and clinical development within the pharmaceutical industry and pride ourselves on offering uniquely high service levels to all our clients. https://exploristics.com/